The Witcher 3: Blood and Wine review: Farewell, old friend
Old witchers never die, they just fade away.
But much of The Witcher 3's success is built off its specificity: Geralt searching for Ciri, his love triangle with Yennefer and Triss, his camaraderie with Dandelion and Zoltan, his sardonic wit when dealing with clients, his gray moral code tempered with unexpected bouts of compassion. Even his stubbornness about formal-wear.
Geralt is these things whether or not you agree with him, and because of that I'll miss him. We may get another Witcher game in the future, maybe multiple Witcher games, and I fully expect them to be incredible given CD Projekt Red's track record. It'll still be different, though. Even if the games follow Ciri, who moves much like Geralt and fights much like Geralt and talks much like Geralt, it'll still be different. Hell, even if The Witcher 4 starred Geralt's long-lost (and never-before-heard-of, because I made him up) brother Keralt, it'd be different. CD Projekt and Andrzej Sapkowski's original novels did that good a job imbuing this character with personality.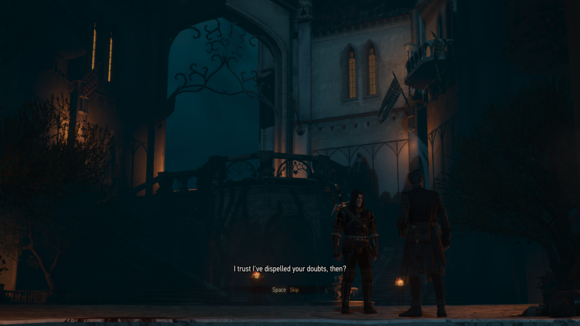 So Blood and Wine is a bittersweet victory lap. It's the story of how Geralt goes from tracking Ciri to the semi-retired state shown in The Witcher 3's post-credits slideshow. It's more humorous than the base game, filled with clever quips and some silly pop culture references (like a fieldhand singing Simon and Garfunkel). It's quieter, more reflective, reminiscent at times of the drinking-at-Kaer-Morhen scene in Witcher 3 proper. It's got great boss battles and court intrigue and features the return of some dear old friends.
And it's a bold move by CD Projekt. If it ends here? What a remarkable way to go out. The Witcher 3 is the most successful game in the series, both critically and commercially. For CD Projekt to let that go? To let Geralt go quietly into the night for a well-earned respite? That takes guts, especially in 2016 when every game is franchised to death. Most companies would see The Witcher 3 as reason to do a half dozen more, to get the factory rolling on a sequel immediately regardless of whether the plan originally called for a stop.
Lest I eat these words later, I will say the ending is suitably ambiguous to allow for another Geralt adventure in the future. Maybe we will see the White Wolf again. If that happens, I'll be first in line for another expansion/game.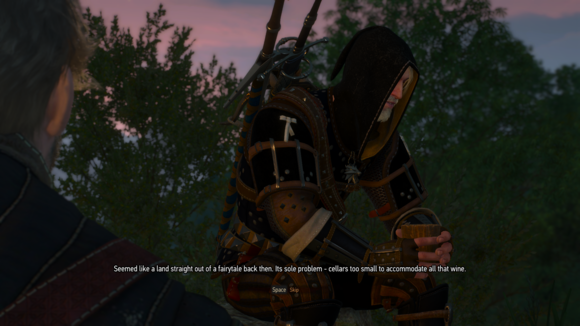 But there's something to be said about an ending. A real, proper ending. Again, "After all that toil, I believe we deserve a bit of a rest." Yes, indeed.