The PS4's revamped streaming services are no replacement for Netflix or Spotify
They're not bad services, but they won't have anyone dropping their existing subscriptions.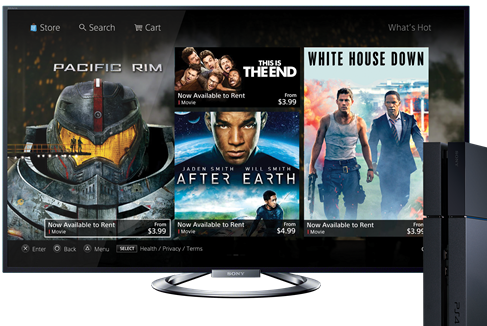 As gamerfaces around the world anxiously await tomorrow's arrival of the PS4, Sony has been preparing for the fact that they will soon control a powerful new gateway in millions of homes.
One of the ways Sony hopes to leverage this position is by attempting to muscle in on the Netflixes and Spotifys of the world and become players' go-to media streaming medium.
The unremarkably named Music Unlimited and Video Unlimited services were previously available for the PS3 and other parts of the Sony ecosystem. However, they have failed to gain any real traction. (Representatives from the company declined to provide any usage numbers).
But as the company prepares the new launch, it hopes a revamped UI will catapult its streaming services to the next level. The services may find an audience with some gamers, but their limited ecosystems and easy replaceability shouldn't cause the execs over at Netflix or Spotify to lose any sleep.
Music Unlimited
First, let's take a look at the big picture. The modern-day Sony ecosystem consists of numerous devices and doodads, which boast various levels of market oomf, but the PS4 is undoubtedly Sony's strongest global brand. It's also one that users will spend hours upon hours interacting with, thus making an ideal platform to launch a new quality streaming service.
In addition, as Nintendo's Wii U continues its tailspin into the great digital abyss and gamers are wary of the coming Xbox One, the PS4 has a chance to be the clear victor in this generation of console wars.
The new-look buffet-style Music Unlimited (MU) service will come pre-installed on every PS4, and—for now—will face no competition from other music streaming services like Spotify, Pandora, etc.
Like other music services, MU offers the ability to create playlists and will use an algorithm to recommend similar music based on your listening habits. Unlike most services, MU will not offer bios or background information on any artists—you'll have to leave that to Wikipedia. However, the big sell for the revamped MU is the service's ability to allow users to play their music over gameplay—directly through the console.
The ad-free music service is available in two paid subscription tiers: a $5-per-month plan that allows users to stream any of the service's 22 million songs over the Web or through their PS4; and a $10-per-month plan that will allow users to stream the service on their mobile devices or download them for offline access.
While Spotify offers a completely free ad-supported version, the service's ad-free paid tiers offer similar access to MU: $5 a month to listen ad-free online, $10 a month to access content across all devices.