The Power Mac G5 is one of Apple's best designs
Crack open Apple's classic tower and behold the attention to detail.
I know the G5s were lambasted for their loud fans, and I get that, but nevertheless I can't help but grin a little at that first "whouummn" of the fans when you power it on—it's like the Foley effect you might apply when the hero in a sci-fi epic flicks the ignition of his hovercar and guns the engine.
It's easy too to remove the optical drive from the G5's chassis.
Likewise, Apple has a clever trick for snuggling a couple of hard disks into the case yet keeping it easy to fit and change them.
And when you wanted to fit Wi-Fi—2003 was well before it was standard in a new computer—you could just slide the AirPort card in through this retaining bracket, slot it into the connection on the motherboard, and then attach the antenna which was helpfully held in the right position for you with a small clip.

Christopher Phin
This G5 might not have had Wi-Fi built in, incidentally, but it did have a built-in dialup modem. It's kinda nutty to think that a computer that looks so modern—and remember that the same basic design was used for the Mac Pro all the way up to the very end of 2013—in fact dates from an era where Wi-Fi wasn't ubiquitous, with instead many connecting to the internet at 56kbit/s.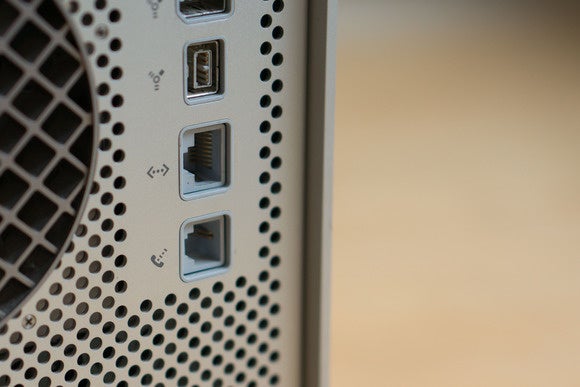 Christopher Phin
Anyway, that's not the point I was making. And nor even am I trotting out the familiar canard about how Macs used to be upgradeable in the past and now they're not and Apple smells and is doomed.
Instead, I want to celebrate those things that reify Apple's pathological attention to detail, those humanizing flourishes that demonstrate the extent to which its designers obsess over how its products will actually fit into the lives of those of us who buy them. They're a big part of the reason I've been a Mac user so long, and why this Think Retro column exists at all.