The latest Windows 10 PCs are slim, powerful and pricey
Better battery life, less weight, faster processors and sleek designs are a few of the reasons to consider retiring your long-in-the-tooth Windows 7 PC.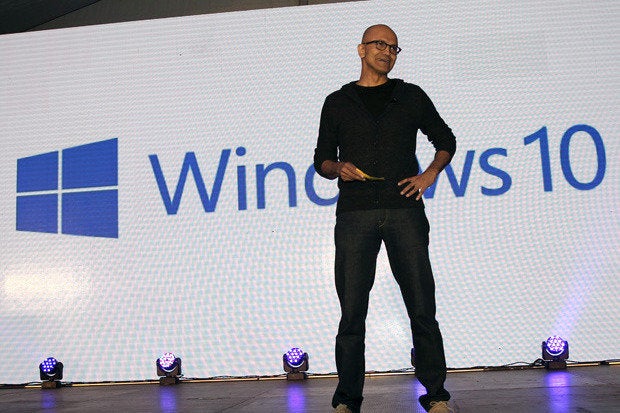 Microsoft CEO Satya Nadella addresses delegates during the launch of the Windows 10 operating system, July 29, 2015. Credit: REUTERS/Thomas Mukoya
If you've been in the market for a new Windows 10 PC, the pickings have been rather slim. That's quickly changing, though. Two major third party manufacturers — Acer and Hewlett-Packard — in addition to Microsoft, recently launched new Windows 10 laptops. A third manufacturer plans announce its offerings next week.
Notable Windows 10 hardware enhancements
I had a chance to get my hands on a few of the new PCS, and I checked out the specs of others. In general, I like what I see. The machines have a number of notable features that set them apart from earlier generations, including:
Intel's latest mobile chip, known as Skylake
Better battery life
lighter and thinner
high-quality cameras, fingerprint readers and software to take advantage of features such as Windows 10's Cortana voice assistant and Windows Hello
These factors and more add up to the first generation of Windows PCs that genuinely give Apple's MacBook Air some real competition — and offer reasons to finally upgrade from the aging Windows 7.
These PCs' longer battery lives are due in large part to Intel's newest generation of processors. As always, the latest generation is more powerful than the last, and more importantly, I think, it use less power. Battery technology is also improving, as PC makers develop more energy-efficient designs. Some of the companies' claims of 10- and 12-hour life may be exaggerated, but the new PCs will still run for quite a while on a single charge.
PC manufacturers are also releasing 2-in-1 computers, or "convertibles," which are PCs with detachable screens that double as tablets. They are touch systems and work well with the some of the Windows 8-like features (tiled apps, for example) in Windows 10.
However, if you purchase a convertible you better be careful. It's easy to accidentally drop the screen as you detach it from the keyboard. HP, though, did a good job engineering its convertible Spectre x2, which has a strong magnet to keep the two parts together even if you hold the PC by its screen and let the base dangle.
New Windows 10 hardware doesn't come cheap, lacks ports
Downsides do exist, of course. First and foremost: price. The really thin, eye-catching new devices are expensive. Microsoft's new Surface Book costs $1,500 in it cheapest configuration. In comparison, Apple's 13-inch MacBook Air starts at $999.
Some of the latest laptops don't have Ethernet or VGA ports to connect to wired Internet or a monitor, respectively. You can, of course, buy dongles to get around the absence of those ports. They generally work well but add a bit of cost to the machine, and they're easy to forget when you're on the road.