The Glance Clock promises to change your concept of timekeeping
This analog/digital hybrid only looks like a classic wall clock.
When paired with a sleep monitor, the Glance Clock can provide a visual indication of how well—or how restlessly—you slept.
Set a wake-up alarm, and the Glance Clock sounds an alarm tone and presents the day's weather forecast with abstract patterns representing rain, fog, sunshine, and snow. Impending thunderstorms are presented with the rumble of a thunderclap. You can also program the clock to scroll through your day's important appointments. The Glance Clock will tap into your phone's caller ID and allow you to associate colors with important callers. The clock face will change color and scroll the caller's name, so you can decide whether to pick up or let the call go to voicemail without ever needing to touch your phone.
Zreaschev told me the Glance Clock can support more than one person's schedule, and the Glance Clock app can control more than one clock. He also said the clock will tie into Amazon's Alexa digital voice assistant, and that you'll be able to create IFTTT recipes and Stringify scripts to link the clock to virtually any other system in your home. An open API will help other developers link their products and services to the device. The clock will run for three to six months on its rechargeable battery, depending on the number of alerts and calls it displays, or users can leave its three-meter cable plugged into a wall outlet.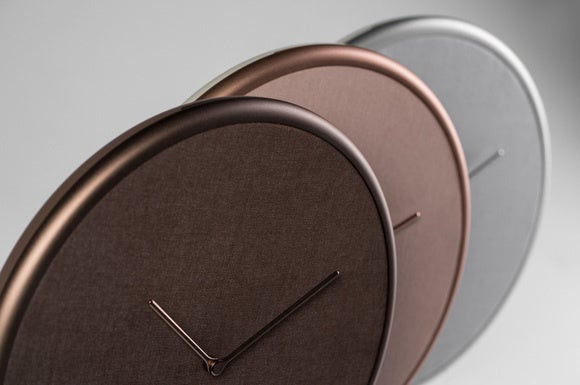 The Glance Clock will be available in three colors: Chocolate, copper, and silver.
A sensor will recognize which users are in your home at any given time, so that other users aren't bothered by alerts aimed at someone who isn't there and so that the battery isn't wasted on alerts played to an empty house.
A limited number of Indiegogo backers will be able to pre-order the Glance Clock for $99 during its campaign. The clock will retail for $199 when it becomes generally available in the first quarter of 2017. The company has already lined up a manufacturer and is seeking to raise $50,000 during its one-month Indiegogo "flexible funding" campaign to bring the clock to market. It reached the halfway point within 30 minutes of start of its campaign.