The Glance Clock promises to change your concept of timekeeping
This analog/digital hybrid only looks like a classic wall clock.
How do you improve on a design as classic as the round wall clock? With LEDs. Lots and lots of LEDs.
I'm being facetious. Glance Clock founder and CEO Anton Zriaschev has conjured up a delightful timepiece that blends elements of analog and digital design and promises to make you more productive by helping you avoid distractions and—surprisingly enough—the compulsion to keep an eye on the clock so you don't miss important events and appointments.
TechHive only covers the occasional crowdfunding project (the Glance Clock's Indiegogo campaign starts today). To catch our interest, the project has to be particularly interesting, and the startup must be able to provide a working prototype. Zriaschev has only a handful of those, so he made the three-hour trek from the San Francisco Bay Area to my home (and TechHive's de facto test lab) to show me his invention. Zreaschev told me his inspiration for the Glance Clock stemmed from MIT Media Lab scientist David Rose's concept of "enchanted objects," things we use every day that are transformed by embedded connectivity.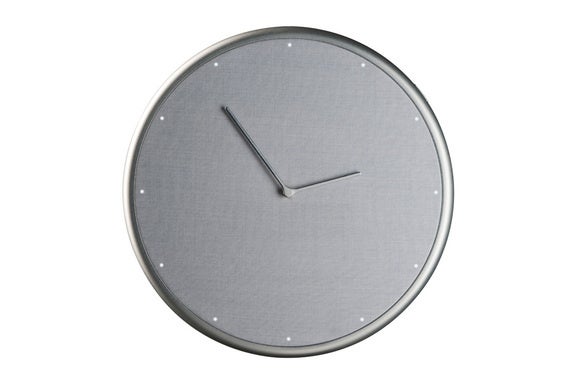 The Glance Clock sports a minimalist design when it's only displaying the time, with 12 LEDs around the edge of the clock representing the hours.
Indeed, the Glance Clock looks like nothing more than a modern but otherwise ordinary analog wall clock, with mechanical hour and minute hands and LED dots shining through its translucent fabric face to indicate the hours. Things get sort of magical when you establish a Bluetooth connection between the clock and your smartphone (future versions will have a Wi-Fi adapter in addition to Bluetooth). Put the Glance Clock in the room you spend the most time in and it will alert you not only to upcoming appointments, but incoming phone calls and emails, weather alerts, milestones in your fitness regimen (tying into your fitness tracker), and even the imminent arrival of your Uber driver.
How does it do all that in addition to telling the time? That's where the LEDs come in. In addition to the 12 LEDs around the edge of the clock for displaying the hours, there's a four-line grid with 48 full-color LEDs per line and another 256 LEDs for displaying contextual information in a scroll. The clock also has a speaker that can be used for audible alerts. A few minutes before your Uber shows up, for instance, you'll hear a honking horn and the make and model of the Uber driver's car will scroll across the face of the clock, so you know what to look for when you get to the street.