The future of displays: OLED is the technology to beat, but LCD will continue to dominate
Those are two of the trends we gleaned from IHS DisplaySearch's annual flat-panel display conference, which took place last week.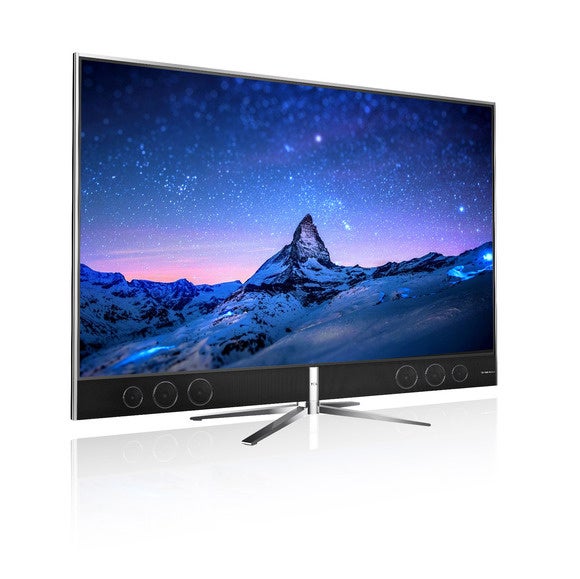 OLED remains the quality standard that every manufacturer aspires to as the flat-panel industry pursues bigger, brighter, slimmer, faster, and cheaper displays. But that last goal—cheaper—will lead to manufacturers churn out LCDs more than anything else. That's the conclusion we reached at the end of last week's USFPD 2015 conference, put on by the market-research firm IHS Technology.
Spectacular color, but still pricey
OLED continues to be a rave success in picture quality, and a major disappointment in terms of production costs and longevity. Manufacturers still are not seeing good yields (the ratio of viable LED layers produced for each dud), and the relatively short lifespan of the blue OLED (three are used for each pixel: red, green, and blue) continues to complicate the manufacturing process.
LCDs were grudgingly admitted to remain the future, if and until, and possibly regardless if OLED tech can overcome its challenges. LCDs are easy to produce, but low pixel density amorphous silicone LCDs will remain the majority of products shipped for the near future. Low-Temperature Poly-Silicon types, with their ability to fit more pixels per inch (up to about 500PPI, or what's sometimes referred to as Retina), will remain in second place, with metal-oxide types making inroads.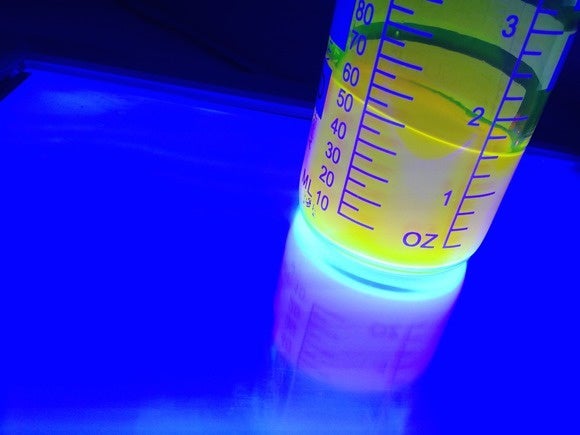 A vial of green Nanosys, Inc. quantum dots.
I missed John Volkmann's presentation on quantum dots. Volkmann is chief marketing officer at QD Vision, a quantum dot component manufacturer. Quantum dots are being used to increase the color gamut of LED/LCD displays to near or better than 100 percent of the NTSC ideal for color reproduction.
An unmodified LED-backlit LCD display typically produces just 70 percent of the NTSC standard. Volkmann's brief asserts that quantum dots are the only way to meet the more stringent REC. 2020 color standard. My recent visit to Nanosys Inc., the company that produces the quantum dots for Samsung's SUHD series, would bear that out. They're near 90 percent of Rec.2020 and far north of the lesser NTSC. There are other methods in play, but overcoming LED backlighting shortcomings is a big item on the agenda.
Adding HDR (High Dynamic Range, or brighter brights and darker darks, generally by adding more NITs) remains a trend in high-end TVs as well as displays that are used outdoors. Outdoor readability is being addressed in some cases by variations on old-school transflection, or bouncing sunlight off a mirror-like backplane to brighten the display.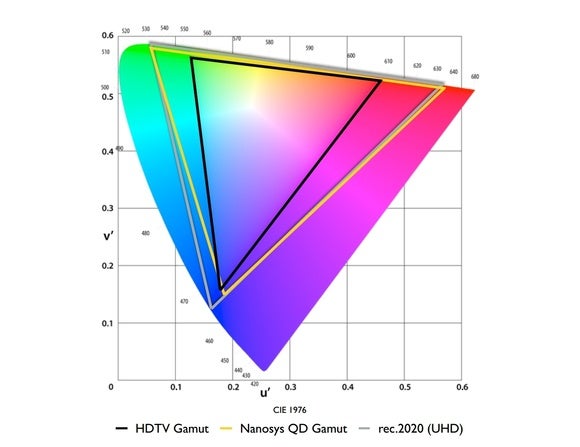 A graph depicting the Rec.2020, older HDTV, and Nanosys, Inc. quantum dot color spaces. Click on image to enlarge.