The Ford GT is absolutely sick with high-tech innovation and you need to know why
Forget about Teslas, Google cars and Apple cars. The 2017 Ford GT is a high-tech tour-de-force, and Ford does it all with a gasoline engine, lightweight materials and advanced aerodynamics.
Driving lesson: When you're trying to improve your lap times on a road course, you can find the most time on high-speed sweepers. The tightest, twistiest corners are fun to attack, sure, but if you can increase your cornering speed through a really long sweeper--if only by 3 to 5 mph--your lap times will melt away.
You're in these corners for a relatively long time, so even seemingly small speed increases pay dividends. And this is the goal that Ford is reaching for with its aero tech. Everyone loves a fast launch, and quick 0-60 specs do indeed translate to speedy corner exits. But if you really want to be a track-day hero, you'll turn your attention to grip.
And you'll also pay attention to braking, which is where Ford completes its aerodynamics story. When you select the new GT's track mode, the rear wing will rise to an "air braking" position, further increasing drag and slowing down the car when you're hard on the brakes. It's all dynamically controlled by the car's holistic computer system. And as soon as you're off the brake pedal, the wing relaxes its grip.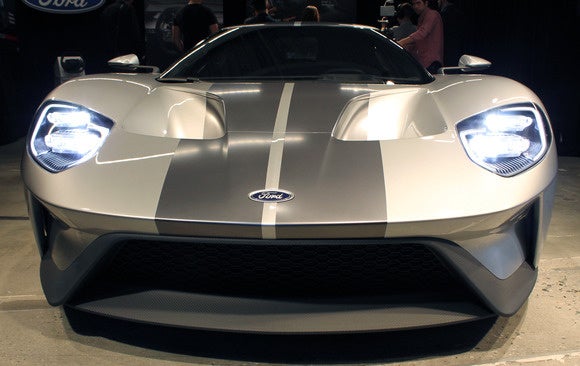 JON PHILLIPS. From this angle, the new Ford GT looks much more like the old Ford GT, and even the GT40 from the mid 1960s.
A software response to turbo lag
I've never driven a turboed engine that didn't suffer at least a little bit of turbo lag, but Ford Performance Chief Engineer Jamal Hameedi told me there isn't any hesitation in the new GT. Apparently turbo lag has been dialed out to the point where the V6 feels like a naturally aspirated engine. For this, we can thank computer logic built into the EcoBoost engine's turbo, cam timing and direct fuel injection systems.
In effect, Hameedi said, the GT delivers the same throttle response one might expect from a turboed race car with special anti-lag hardware. In grossly simplified terms, these systems dump fuel directly into the turbo to keep them on boost.
"Obviously, you can't do that on a production car--the [catalytic converters] would get a little upset." Hameedi said. "But we're accomplishing that same end goal purely with software operating in the background to keep the turbo spooled. These are complex algorithms that are completely seamless to the driver. All they know is that when they step on the throttle, the turbo and torque is there."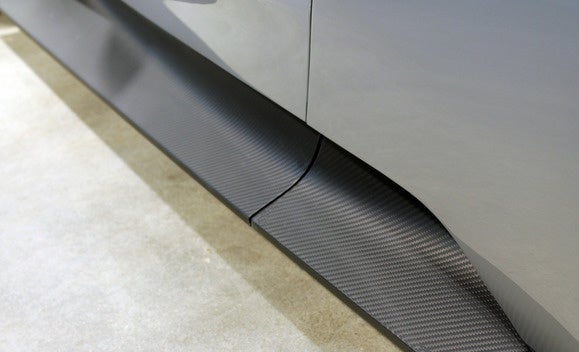 JON PHILLIPS The entire body, chassis, and passenger cell are made of carbon-fiber, but it only remains unpainted on certain bits like the rocker panels.
Previous Page 1 2 3 4 5 Next Page