The Ford GT is absolutely sick with high-tech innovation and you need to know why
Forget about Teslas, Google cars and Apple cars. The 2017 Ford GT is a high-tech tour-de-force, and Ford does it all with a gasoline engine, lightweight materials and advanced aerodynamics.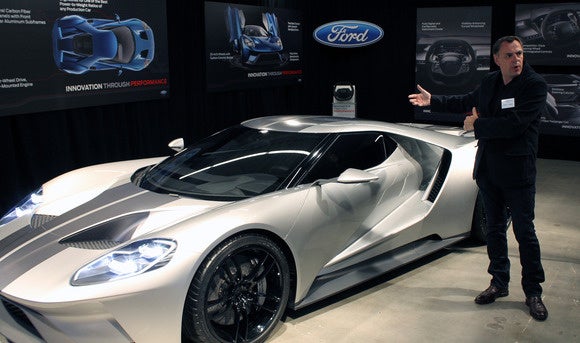 Ford is done with nostalgia. The 2017 Ford GT might bear the faint silhouette of the GT40--the gorgeous endurance racer that crushed Le Mans in 1966--but this latest supercar reboot is absolutely sick with high-tech engineering.
In fact, the new GT is the most high-tech car Ford has ever created, and it claims that tag without a single parking-assist sensor or lithium-ion propulsion pack. The story here is all about lap times, lap times, lap times: getting from start to finish on twisty race tracks as quickly possible. And to reach that goal, the Ford GT doubles down on aerodynamics and weight reduction, twin byproducts of Ford's most advanced R&D.
While the original GT40 (and even its 2005 redux) looked like it was designed by Pops and Sparky, the new Ford GT looks like it was extruded from a HoloLens by a team of physicists and materials scientists. And given Ford's push into cutting-edge, the analogy may not be too far-fetched.
I saw a mock-up of the new GT at Ford's Research & Innovation Center in Palo Alto, CA, the heart of Silicon Valley venture capital. Yep, Ford really wants to emphasize that it's as high-tech as Tesla, Google... and maybe even Apple. But what it's doing with the new GT bears zero resemblance to anything we're seeing from Ford's Silicon Valley neighbors.
Consider: The Tesla Model S P85D does 0-60 mph in 3.2 seconds. It's an amazing benchmark, but all that raw acceleration, however fast it may be, is still being generated by a 5,000-pound car. This level of avoirdupois has no business being on a race track, and is best reserved for C-suite executives looking to smoke other fat-cat sedans at boulevard stoplights.
Ford hasn't yet revealed how fast its 600-plus horsepower engine will pull the new GT off the line. Nor do we know the Ford GT's curb weight. But based on everything we've learned so far, it looks like the car's aero package will generate insane levels of downforce, clamping the GT to pavement on high-speed sweepers, the portions of a race track where essential time is won or lost.
And that's a high-tech story about usable speed.
28 processors, 10 million lines of code
The new Ford GT includes 28 processors that chew through more than 10 million lines of embedded system code. Ten of the processors are all new for the GT, and all together the 28 chips generate more than 300MB of data per second. Some of the processors handle mundane tasks like tire-pressure monitoring. But there's also a gyroscope that monitors pitch, roll and yaw (critical for triggering stability and aerodynamic features--all in a seamless fashion that's transparent to the driver). Even the door latches have a processor with logic behind it.