The Electric Jukebox: For music lovers who think Apple Music and Spotify are too expensive and too complicated
British startup has developed a music streamer that plugs into your TV (and only your TV).
It's no longer common to have a Hi-Fi system in the living room, as Lewis points out, but most everyone has a TV. "Over the past 10 years," Lewis said, "we've moved to a personal listening model. We're harnessing the one bit of technology that everyone has in their living room, so that people can listen to music together again."
Well, here's hoping those TVs are connected to at least a soundbar so that Electric Jukebox buyers don't subject themselves to the sonic horrors of the speakers in a typical flat-screen TV. Thanks to the Audio Return Channel first introduced with the HDMI 1.4 standard, audio can travel upstream from a TV to a soundbar or A/V receiver using a single cable.
The basic technology
I've covered some of this earlier, but here are a few more facts you should know. Before you pre-order one for your parents, know that the HDMI dongle needs a Wi-Fi router to connect to the cloud. If there's no Wi-Fi in the house, there's no music. That's not an exceptional requirement by any means, but the Electric Jukebox is not quite as stand-alone plug-and-play as the company makes it out to be.
On the other hand, as Lewis points out, there is no login ID or password to remember and no subscription to manage. If you want to continue the music-on-demand feature after one year, you just buy another one-year music pass (via the app on your TV screen or the company's website). You'll still get curated music and radio without the pass, so the hardware doesn't become useless after a year.
"The number-one reason that people don't subscribe to streaming services is that they don't want to commit to a monthly subscription," Lewis said. "That's why we bundle the service with the hardware."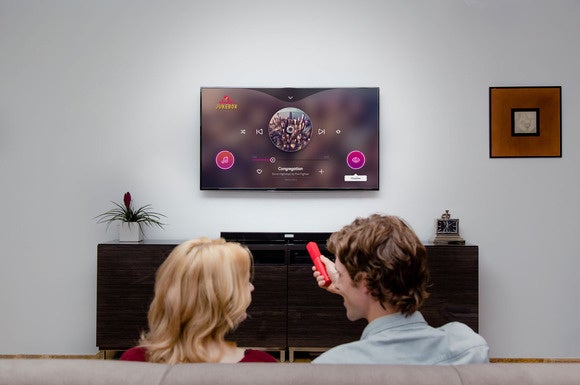 The Electric Jukebox Company believes people want to make music listening a shared experience once more. Credit: The Electric Jukebox Company
The onscreen app uses HTML 5, "so there are no software updates, ever," Lewis said. And the wireless controller communicates with the HDMI dongle using DECT, a wireless standard originally developed for cordless phones. "We found it to be better than Bluetooth because you don't need to pair the two devices," Lewis said. DECT operates in the 1.9GHz frequency spectrum, so it won't interfere with your Wi-Fi network.
Lewis told me the music will stream in "CD quality," but when I asked at what bit rate, he said "320Kbps." <cue sad trombone> Lewis demurred when I asked which record labels Electric Jukebox had contracts with. When I asked for more details in a follow-up email, a company spokesperson responded with this statement: "The Electric Jukebox Company will announce its licensing arrangements in due course, but it will reach consumers with a full catalogue of around 30 million tracks to play instantly."
Previous Page 1 2 3 4 Next Page