The Electric Jukebox: For music lovers who think Apple Music and Spotify are too expensive and too complicated
British startup has developed a music streamer that plugs into your TV (and only your TV).
Lewis explained in a telephone interview last week what inspired him to create the Electric Jukebox. "Everyone in the music industry who we've talked to has noticed that less and less people are engaged in music," Lewis said. "Technology has pushed a lot of people away from music by making it this annoying thing. There used to be 200 million people who would buy at least one CD every month. Streaming services have been around for 10 years, but only 40 million [people] have signed up to use them. We're trying to make streaming as easy to use as the radio. The challenge for the design team was to build something that people can take out of the box, plug in, and they're instantly listening to music."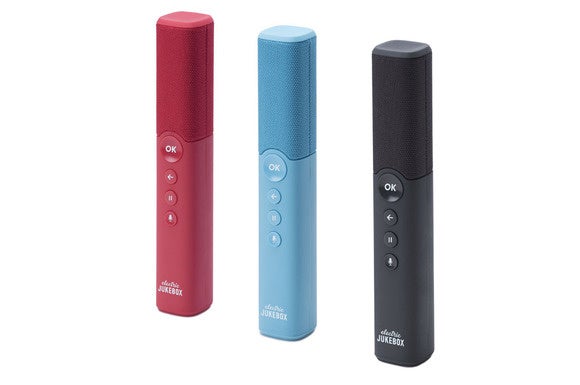 The Electric Jukebox controller has a motion sensor and a microphone built in. Credit: The Electric Jukebox Company
How it works
You'll be able to search for the music you want to listen to by speaking the name of the song, artist, or album into the Electric Jukebox controller. There's never a need to peck at on onscreen keyboard, and you don't need to worry about spelling. Search results appear on the TV and you'll wave the controller in the air to move a selection cursor on the screen. The controller has just four buttons: OK, Mic, Pause, and Back. But when the selected album or song ends, so does the music until you make another selection. They might want to rethink that.
The Electric Jukebox will also offer curated playlists (these will be called "mix tapes") and curated radio stations. The company has announced five artists as curators: American singer/songwriter Sheryl Crow; British recording artist and actor Robbie Williams; American actress Ayda Williams (who is married to Robbie Williams); British comedian and actor Stephen Fry; and singer/songwriter and Britain's Got Talent judge Alesha Dixon.
Crow provided this quote for the company's press release: "I love Electric Jukebox because it brings people together. Listening to music and sharing those experiences together is what life's all about. With headphones and iPhones we've somehow lost all that. Electric Jukebox plugs into your TV and turns it into a jukebox with all the music you want, played out loud in your home for you to listen together. Simple, fun, and no fuss."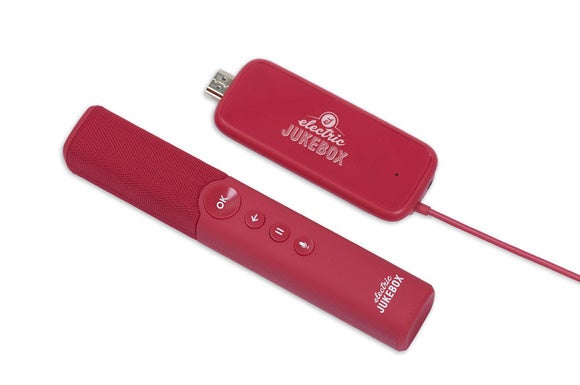 You plug the HDMI dongle into your TV and the user interface appears on the screen. You can either use the TV's onboard speakers or connect your TV to a soundbar or A/V receiver. Credit: The Electric Jukebox Company
Previous Page 1 2 3 4 Next Page