The Electric Jukebox: For music lovers who think Apple Music and Spotify are too expensive and too complicated
British startup has developed a music streamer that plugs into your TV (and only your TV).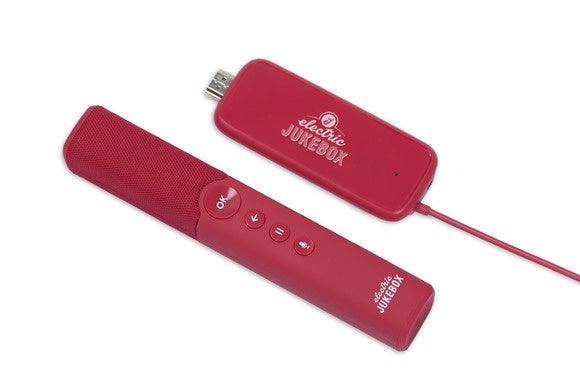 Credit: The Electric Jukebox Company
The British startup Electric Jukebox Company announced yesterday a new music player and service that it says will appeal to the 160 million people who used to buy CDs, but who haven't made the switch to streaming services like Apple Music and Spotify because those products and their hardware requirements are too complicated and too expensive. Stay with me. This gets even more interesting.
The Electric Jukebox is one part on-demand music-streaming service and two parts hardware: A dongle that you plug into your TV's HDMI port, and a wand-like controller with a built-in motion sensor and microphone. Plug the dongle into your TV, and a simple home-screen appears with three icons: My Music, Discover, and Search. Using the wand to interact with the software and the mic to perform voice searches for your favorite artists, songs, and albums, you can sit in front of your TV and stream an unlimited number of tunes from the cloud.
That's right. The only way you can use the Electric Jukebox is when you're in front of your TV. There is no web client for your computer. There is no mobile app for your smartphone or iPod. You won't find an Electric Jukebox app on your next smart TV, set-top box, or A/V receiver. There's no multi-room option. There is no sharing what you're listening to on social media. It's as if the last 15 years of change in the music industry never happened; well, except for the part about not having to buy records anymore.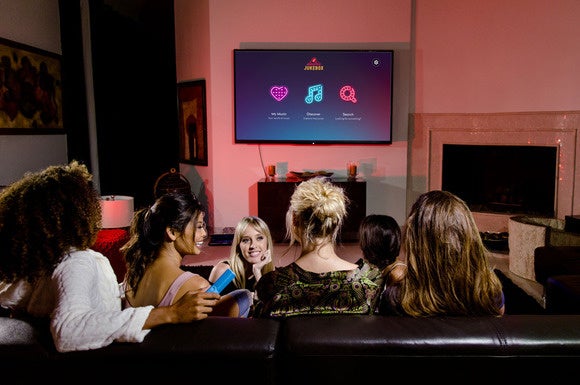 Does anyone listen to music this way any more? Credit: The Electric Jukebox Company
It would be easy to dismiss the Electric Jukebox as a misbegotten joke, but the company's management team is stacked with some very heavy hitters who are extremely passionate about this product. And when you hear their ideas, you realize they could be on to something. Personally, I can't imagine ever buying an Electric Jukebox for myself, and I expect most tech-savvy readers feel the same way. But just because this product wasn't designed for us doesn't mean it won't appeal to people who care just as deeply about music, but who aren't as willing to adopt new-fangled technology to get it.
The people behind the Electric Jukebox
Electric Jukebox Company CEO Rob Lewis founded Omniphone, which provides cloud-based music services to a number of companies, in 2003. The company was later acquired by Sky, one of Europe's biggest entertainment companies. Chairman of the Board Sir Malcolm Williamson is a former CEO at Visa International. The board also includes former CEOs, CFOs, and chairmen from EMI Music and Island Records. The privately funded company has been working on this project in stealth mode for more than two years.