The Crew review: Stellar virtual tourism hidden behind not-so-great racing
The Crew is a fantastic tribute to American car culture, but not a fantastic racing game.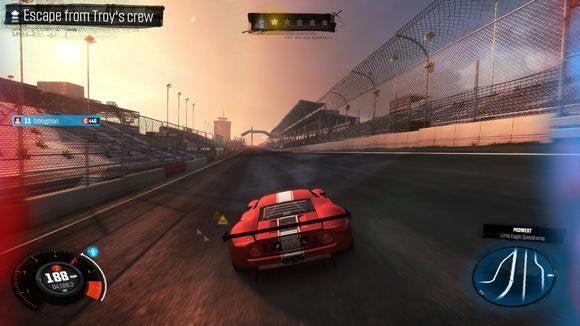 Have you ever smuggled drugs through Arches National Park? Done donuts in a meteor crater in Arizona? Driven a truck down a ski slope? Crossed the Brooklyn Bridge without sitting in traffic? Steered your car past a space shuttle, ready to launch? Escaped from the police in the Louisiana Bayou? Have you ever gone so fast through the Mojave that your vision got a little blurry and you prayed the cops weren't around?
Well, maybe I've done that last one in real life. For everything else, there's The Crew.
Walked off to look for America
I'm going to lead off with a pretty ridiculous suggestion--The Crew isn't a racing game.
I know! It's an assertion that doesn't make any sense! Ubisoft has sold The Crew as a racing game, and there are certainly plenty of parts where you drive your car really fast. Hell, there's a race in this game that's four hours long (more on that later).
The Crew isn't a racing game though. Not really. I have no doubt it was pitched as a racing game, and I know why it's being sold as a racing game, and it's because a racing game is something people can understand. It's the same reason Assassin's Creed needs some ridiculous science fiction frame story--because in 2007 the idea of an action game set during the Third Crusade wasn't "viable."
But The Crew is a video game tribute to American car culture. It's a tribute to road trips, to roadside attractions and long drives at night, to exploring every single inch of this country in search of some weird landmark or experience. It's a tribute to the packed city streets of Manhattan, the broad highways of Los Angeles, and everything in between.
I've spent a lot of my time with The Crew being irrationally annoyed with its map. It's like someone handed a child a sheet of paper and a crayon and said, "Hey kid, draw the United States." Why is Pikes Peak in Kansas? Why is Texas so fat? Why do Boston and Denver not exist?
The United States of The Crew also exists in some bizarre fantasy world where the nation is made of enormous cities surrounded by miles and miles of lush wildlife and parks punctuated by quaint villages, instead of the real-life morass of suburbs and strip malls that line most major highways, especially in the coastal regions.
It's an accomplishment though, and despite all my qualms--why do all the signs say eleven miles to the "Great Canyon" but the map uses the correct "Grand Canyon" terminology?--I want to applaud Ubisoft at the sheer audacity of this game. Like Grand Theft Auto, The Crew's strength for me is in recognizing real-life places more than in actually playing the game. No single place in The Crew is as detailed as Grand Theft Auto V 's Los Angeles, but they've captured the essence of each city and region of the United States. Think about that for a second. Think about what an amazing feat that is.