The craziest stories of the tech sector
If your memory is fuzzy, that was the time of the last big propeller beanie craze, most notably in Baltimore, where the multicolored hats morphed from being geek chic to a must-have item for the city's youths.
The changing art of measuring TV viewership
If everyone started watching "24" or "CSI" on video iPods or streamed over the Internet - instead of on TV in their living rooms - these top-rated shows would probably go the way of "Cop Rock."
That is, Jack Bauer would become the victim of, not terrorists, but bad ratings. This is because Nielsen Media Research cannot collect data about what people watch on handheld video-viewing gadgets or from PCs streaming network TV shows. While Nielsen estimates around 90% of TV viewing still happens in homes, it's this burgeoning 10% that TV networks and advertisers are desperate to delve into.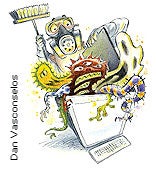 An unseemly marriage: Porn sites and spyware go hand in hand on the Web
Spyware used to worm its way into PCs when users tried to download a free utility, such as a screen saver, and wound up with an unexpected bonus after agreeing to the distributor's license agreement.
Today most spyware infiltrations follow a different course: Users browsing the Web unknowingly launch "drive-by" downloads as they peruse sites affiliated with spyware makers. What those spyware-dumping sites often have in common is pornographic content.
During his law enforcement days Harry Megerian got his hands on a lot of IT gear - by brute force.
"We probably did a raid once a week or once every two weeks," says Megerian, a former computer forensics specialist with the U.S. Treasury Department. "I would walk away with five computers, on average."
These days Megerian still scours computers for evidence, but he does it on a consultative basis through the firm he founded, Computer Investigative Services, in Rochester Hills, Mich. One thing he doesn't miss is the raids. "I got a little tired of running up flights of stairs, breaking in doors," says Megerian, who retired from the Treasury Department in 2003 after 29 years.
A shark fin, that is.
"There's an informal network of who you can get the fin from," says John Power, the marketing manager for the Enterprise Storage Server, who explains that the shark fin is a reference to the product's code name, Shark. "There are closets in IBM offices all over the world with these fins in them," Power says.
When you first see the management team's background - past leaders from companies such as thin-client pioneer Citrix and VoIP vendor NetSpeak - you might think: "Here we go again, another network start-up."
But in this case, you'd be flying off course. DayJet, the brainchild of Citrix co-founder Ed Iacobucci, is a tech company at heart, but its focus is on simplifying air travel for business executives in areas under-served by major airlines.
Previous Page 1 2 3 4 Next Page