The complete guide to earning and spending coins in Pokémon Go
Don't dump money into the shop until you know how to make the most of it.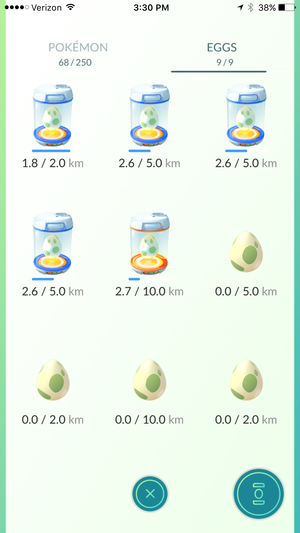 Buying a couple extra incubators helped clear a bunch of 2km eggs, letting me finally snag some vaunted 10km ones instead.
Egg Incubator: If you've got eggs resting in incubators, they'll cook slowly as you accumulate distance by walking with the game open, and then finally hatch and grant you a free Pokémon. Unfortunately, I ran into a problem: I'd played for hours and hours and was at level 16, yet had never received a special 10km egg. My problem? My egg inventory was at capacity and I hadn't been incubating the common 2km eggs regularly to make room.
Realizing my conundrum, I bought a couple of extra incubators and had five eggs incubating at once for a few days, which let me blast through my reserves and make some space. And lo and behold, I got my first 10km egg. At 150 coins apiece, the incubators are not cheap—but that was a major frustration that wasn't going to resolve itself quickly, so I'm happy with the decision. You'll find incubators every so often, but buying an extra (or two) can be handy.
Upgrades: Lastly, Pokémon Go offers a pair of upgrades for 200 coins apiece: The Bag Upgrade lets you store 50 more items (up from a base of 350 items), while the Pokémon Storage Upgrade adds 50 more slots for keeping the monsters (up from 250 to start).
Honestly, there's little reason why you would need either of these. If you hit the item limit, chances are you have way more potions and Poké Balls than you'll ever need; I end up pruning my inventory every few days when I hit the cap and dump Revives, weaker Potions, and basic Poké Balls as needed.
As for the Storage Upgrade, you don't have to hold onto every last Pokémon once you capture it. You should be transferring duplicates to Professor Willow, which helps you gain candy for evolutions, and every captured Pokémon is represented in your Pokédex anyway. If you're coming close to the storage limit, then it's time to set a bunch of them loose.
Previous Page 1 2 3 4