The complete guide to earning and spending coins in Pokémon Go
Don't dump money into the shop until you know how to make the most of it.
If you don't have nearly as many PokéStops nearby, or you're a spotty aim during capture attempts, you might be tempted to buy packs of Poké Balls, which are available in quantities of 20 (100 coins), 100 (460 coins), and 200 (800 coins). I don't recommend it, however: Try to find somewhere nearby with a cluster of PokéStops and walk a loop to boost your inventory.
Incense: Incense causes Pokémon to pop up around you, no matter where you are, so they're handy if you're stuck in the office or don't feel like leaving the couch. However, when standing still, Pokémon only appear every five minutes, and more often than not they're super-common monsters. As such, they're not the most exciting power-ups.
You'll get them as freebies every so often, and you should definitely use 'em if you've got 'em. However, paying 80 coins for one, 500 coins for eight, or 1,250 coins for 25 of them doesn't feel like a particularly great use of money—especially when Lures seem to offer more bang for your buck.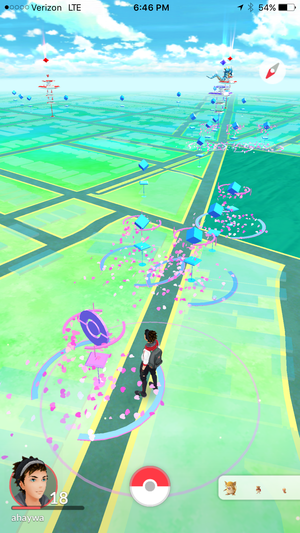 Lures are a wonderful thing, especially when your neighbors are generous with them.
Lucky Eggs: If you're a power player, then Lucky Eggs could wind up being your best friend. Each Lucky Egg doubles your earned XP for a span of 30 minutes, and while that's helpful for capturing Pokémon in the wild and activating PokéStops, it's even better for mass-evolving the Pokémon in your stable.
Got a stockpile of Pidgeys, Weedles, or any other common monsters? Evolve as many as you can using the specific candy for each Pokémon, and then send the duplicates away to earn even more candy. You'll earn a bunch of XP at once, and if you have a Lucky Egg active, you'll double that massive tally. It's awesome. They're priced the same as Incense: one for 80 coins, eight for 500 coins, and 25 for 1,250 coins.
Lures: Lures are wonderful because all players benefit from a PokéStop with a Lure on it, so you can mooch off nearby players. But if you're at a restaurant, park, or anywhere else with a PokéStop and want to play while you're stationary, a Lure can help you draw a steady flow of monsters to your location. Better yet, areas with overlapping PokéStops can be absolute goldmines for captures when they all have active Lures.
You'll get Lures at certain points for leveling up, but otherwise, they're one of the most valuable items worth buying if you're in the right situation. It's 100 coins for one or 680 coins for eight—no mega-packs here.
Previous Page 1 2 3 4 Next Page