The complete guide to earning and spending coins in Pokémon Go
Don't dump money into the shop until you know how to make the most of it.
I've held a few gyms in my time, but here in Chicago, most of the gyms around me tend to change hands multiple times an hour—so I've never been confident enough to try and find further gyms to hold down before collecting my bonus. Over time, as casual players thin out and hardcore fans wield ultra-powerful Pokémon, perhaps the gyms will stay with one team for longer spans. But really, after playing the game steadily for nearly three weeks now, I think I've collected 50 coins via this process. You can't buy anything with 50 coins.
Buying coins
Pokémon Go's coins are sold in bundles, and unsurprisingly, you'll get a better deal the more you're willing to spend at one time. You can snag 100 coins for $1, 550 coins for $5, 1,200 coins for $10, 2,500 coins for $20, 5,200 coins for $40, or a staggering 14,500 coins for $100.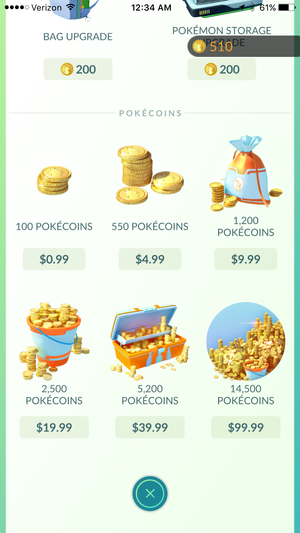 Coins are serious business in Pokémon Go. Spend (and buy!) them wisely.
On the low end, you're essentially swapping one penny per coin, while the largest bundle trims the price of each coin down to $0.0068. So you'll save a fair bit of money over time by buying in bulk, rather than making tiny deposits over time, but dropping $40 or $100 in a mobile game is a big ask.
Personally, I've spent $13 in the game so far and still have about half of those coins unspent. Initially, I resisted spending larger chunks of money and only dropped $1 here and there to buy a Lure, which let me draw Pokémon near a PokéStop—perfect for when I'm hanging out at a playground with my son. Eventually, however, I bought the $10 pack and have been picking away at the balance here and there.
Spending coins
Why buy coins in Pokémon Go? Well, ideally it's not to replenish core items that you can get by visiting PokéStops—you'll get a lot more value by occasionally buying items that boost the amount of experience you earn from playing, or that maximize the time you put into the game. Here's a look at what's available in the Shop and whether or not it's worth your hard-earned coins.
If you hit a lot of PokéStops, then you shouldn't need to buy Poké Balls. In fact, you might need to ditch some!
Poké Balls: As mentioned, I live in a busy urban area—so I come from a place of privilege when it comes to PokéStops. They're everywhere around me, and I can easily hit 10 or so in a 10-minute loop when I want to stock up on items. Given that, I've never come close to running out of Poké Balls, as they're typically granted for visiting PokéStops. In fact, I routinely toss out dozens at a time when I hit my item storage limit.
Previous Page 1 2 3 4 Next Page