The complete guide to earning and spending coins in Pokémon Go
Don't dump money into the shop until you know how to make the most of it.
Pokémon Go can be an expensive habit. Sure, it's free to download, and you can play as much as you want without spending a thing—in fact, we have some suggestions on how to make the most of a no-pay approach.
But like most free-to-play games, Pokémon Go has some hugely appealing perks that aren't easy to come by or very plentiful unless you buy packs of coins, and the temptation to spend can be pretty serious when you're making slow progress day in and day out. And while you can earn in-game coins, that too is a slow and uncertain process.
Thinking about pumping some cash into Pokémon Go? Before you do, here's a look at how you can earn coins through gameplay, what kinds of coin packs are available for purchase, and which items are most beneficial if you do end up reaching for your wallet.
Earning coins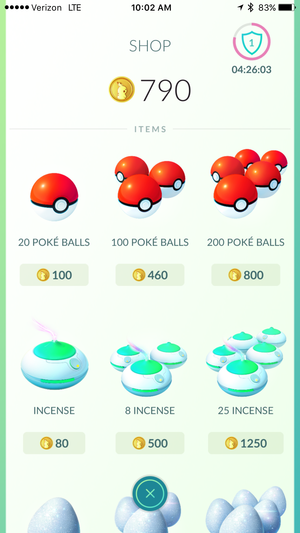 You'll have to wait for the timer to tick down before redeeming further defender rewards.
As of now, there's only one way to earn coins in Pokémon Go: by occupying and defending gyms. You'll find gyms all around the world map—they're the tall structures with a Pokémon up top, and by this point, each should be dominated by one of the three teams. Once you reach Level 5 in the game, you can pick a team and enter the fray.
If you find a local gym with your team housed within, see if you can add a Pokémon to help defend it. You'll find the option on the lower left side of the screen if the gym has an open slot to fill, and you can pick your most powerful Pokémon (with the highest CP rating) to help battle back any rivals who try to take the gym.
On the other hand, if you find a gym under the command of an enemy team, you can try to take it back for your crew. You'll need to defeat all of the Pokémon guarding it—or work together with allies to wear them down—to turn the gym neutral, at which point you can add one of your own Pokémon.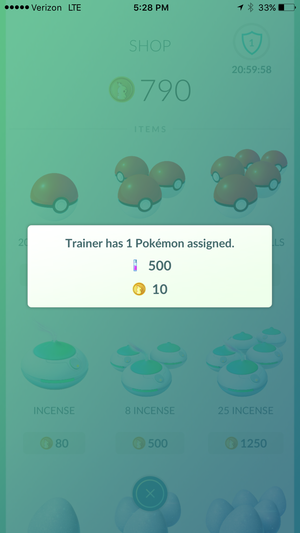 Earning 10 or 20 coins at a time won't add up very quickly, unfortunately.
Whatever the case, if you have a Pokémon installed in at least one gym, you can reap the rewards. Hit the Shop and look for the little shield icon on the upper right. Tap that and you'll collect a Defender bonus of 10 coins and 500 Stardust for each gym you currently control, up to a maximum of 10 gyms. Then the timer will reset, and you'll have to wait 21 hours to redeem any further rewards.