The complete, easy guide to backing up your Mac
You know about Time Machine, but there are other ways to back up your Mac. Here's how to pick the best backup method for you.
But be aware that: Takes a long time to complete the initial backup on most broadband connections, and could take an impractically long time to restore a full system back again. Unlikely to be an option on a capped or slow connection. Cost can mount up—though do explore "family" plans if you want to get everyone backing up.
Aside: iCloud's backup abilities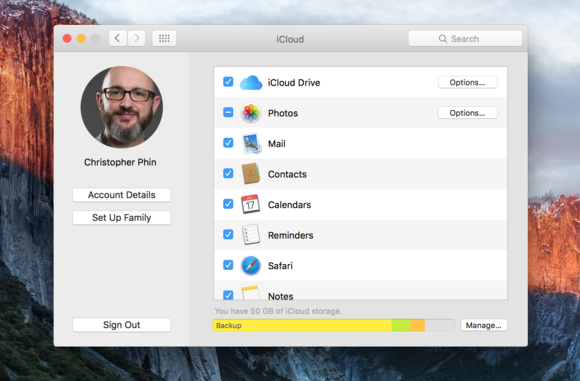 iCloud can back up key information—addresses, bookmarks, and keychain items, for example—and also back up your photo library and any documents stored on iCloud Drive. Just be careful: it's easy to misconfigure things and to discover too late that you haven't backed up the things you thought you had. Pay close attention to the iCloud pane of System Preferences; don't just think "I have iCloud" because it doesn't work the same on the Mac as the backup system does on iOS.
Peer-to-peer offsite backup
Rather than paying a company a monthly or annual fee to store your data on its servers, you can get the main benefits of cloud backup simply by backing up over the Internet to a disk stored at a friend's house. The best-known way to do this is with CrashPlan; install the free app on their computer (where they can define where they want backups to be stored and how much space to allow you) and then on yours, define them as a backup target, and then just let it run. Indeed, you can do the initial backup to a disk connected to your computer first, and then attach it to the computer at your friend's house, to speed up that initial backup process.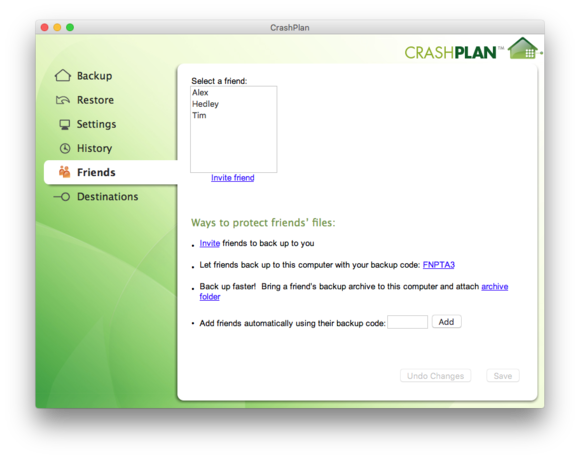 CrashPlan allows you to use its software to back up your data to a Internet-connected drive at a friend's house.
Of course, as a courtesy, you probably want both to offer them the option of backing up to you, and also offer them a hard disk so that you're not taking up space on their own internal (or external) drives. This drive could be a RAID or disaster-proofed drive for extra protection.
Your data is encrypted on the backup drive, so even if you don't entirely trust your friend, they can't see what you're backing up!
Good because: Gives you the main benefit of cloud backup—that your data is protected from theft or local disasters—but without the ongoing cost.
But be aware that: Your friend's computer needs to be on for backups to happen, most of the limitations of backing up over the internet detailed above still apply, and you have fewer guarantees about your data's safety as you would have with a commercial cloud backup service.
Previous Page 1 2 3 4 5 6 7 Next Page