The complete, easy guide to backing up your Mac
You know about Time Machine, but there are other ways to back up your Mac. Here's how to pick the best backup method for you.
A quick aside to encourage you to check out the enclosures from Drobo; they don't use traditional RAID systems, but they give the same redundancy benefits, and allow you to mix and match drives and to grow your storage cheaply and organically in a really useful way. Pricey, though.
Good because: Extra redundancy, with no extra complexity.
But be aware that: Obviously, they're more expensive. No protection against local disasters.
Fire- and waterproof disks
Companies such as ioSafe make disks that can withstand fire and flooding, and while these still don't offer you any specific protection against someone breaking into your home and office and stealing your stuff, they at least give some peace of mind by guarding against local catastrophes—at least for a while. Be sure to check the ratings for what they can withstand.

If you're worried about a fire or flood, you can get a hard drive that can survive such disasters. Credit: Christopher Phin
You can get fire- and waterproof disks that connect to your Mac like any other regular hard disk, and, as above, a NAS—which also works with Time Machine.
Good because: Some protection against local disasters, and can be used for Time Machine (direct or over a network) or cloning.
But be aware that: They tend to be bulky and cost a little more. No specific protection against theft.
Cloud backup
Services such as CrashPlan, Backblaze and Livedrive let you send your files to their servers over the Internet, for a fee. If you do this, then your Mac and any local backups you have on the premises next to it can be stolen, smashed, burned or drowned, but there's a copy of your data held in a remote location, in a facility that is usually itself secure and which has good data redundancy.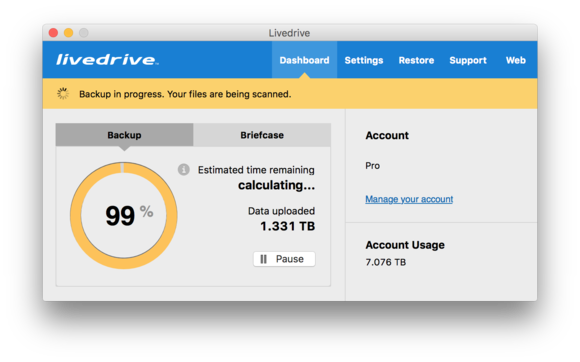 Livedrive, an online backup service.
Don't confuse this with services such as Dropbox, which, while they do broadly the same thing at a technical level, are only designed for tiny subsets of your data, not the whole lot—and it'd be just your luck if you haven't put the thing you want in the safe directory to be backed up.
Good because: All your data gets sent away to a secure location, so is protected from theft and local disasters. Happens all the time you have an internet connection (so great if you travel on business), rather than requiring you to be on your home network as with a Time Capsule, say. Sometimes some versioning.
Previous Page 1 2 3 4 5 6 7 Next Page