The best gaming headsets of the year
These headsets strike the right balance between performance and value, no matter your budget.
Best mid-range wireless: Logitech G933
If you want to move up from the Corsair Void Wireless, Logitech's G933 is the next logical step. Priced at $199 but typically on sale for $160, the G933 is still an affordable wireless headset—at least compared to the front-runners from a few years ago—and is an upgrade over the Void Wireless in a number of ways.
The biggest improvement you'll get with the G933 is its audio. Its sound is cleaner than that of the Void Wireless, across the spectrum. Though not bass-heavy out of the box, those who want more low-end get plenty of headroom for EQ tweaks—and it's a neat, nuanced bass instead of Corsair's muddier thumping.
Mids and highs are also better, with none of the Void Wireless's overly compressed slickness that crops up in the Void Wireless at louder volumes. And the G933's sound stage is impressive, with oversized ear cups that let sounds breathe even in stereo configuration.
And while I won't go as far as to award a medal to the G933's surround-sound capabilities, I will say the feature is serviceable—for a headset, at least. You can leave the 7.1 mode on without completely destroying sound quality, and in certain well-mixed games (like Battlefield), the G933 does a decent job simulating directionality. It's not much better than stereo, and nowhere near a real surround sound setup, but it's better than most headsets.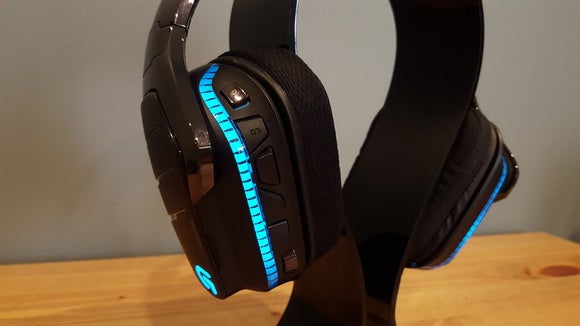 I'm a fan of the G933's build, too. This headset is hefty but smartly designed: The USB dongle sits inside one of the ear cups and underneath a magnetized panel, while five buttons on the rear of the left cup let you adjust settings on the fly.
The G933's primary downside is a microphone noisier than the competitors: It picks up the sound of my typing and every creak of my computer chair. As I said in our review, you'll want to consider using push-to-talk, lest you annoy your teammates with incessant background noise.
Get used to charging this headset, too. While its eight-hour battery life surpasses that of many older wireless headsets, it pales in comparison to the Void Wireless's 12+ hour average.
Overall, it's still a great headset. Better ones exist—the Astro A50 and SteelSeries Siberia 800, for example. But given the G933's price and performance, this headset might be the best-bang-for-your-buck wireless headset.
Best splurge: Astro A50/SteelSeries Siberia 800 (Tie)
Should you spend $300 on a gaming headset? No. Probably not. I've long maintained that for that amount of money you could snag a great pair of headphones and a decent microphone to fill the same gap in your life.
Previous Page 1 2 3 4 5 Next Page