The best gaming headsets of the year
These headsets strike the right balance between performance and value, no matter your budget.
Best low-end wireless: Corsair Gaming Void Wireless
Frankly speaking, Corsair doesn't really have any competition in this category. Most decent wireless gaming headsets will run you $150 or more. Corsair's Void Wireless is priced at a mere $100, which leaves it on its lonesome.
But even accounting for that vacuum, it's pretty good. Not phenomenal, mind you, but at this price you're getting a bargain.
I wasn't really sure what to make of the Void's weird, diamond-shaped ear cups but after some use I'm actually pretty pleased. The Void Wireless sits a bit forward on the head, with the band resting just above your forehead. It takes some getting used to, but the end result is less tension on the jaw and more on the back of the head where it's less noticeable. I wouldn't say it's as comfortable as the more traditional HyperX Cloud, but without a doubt I like it more than its predecessor, the H2100.
The on-headset controls are fairly intuitive, with a volume rocker on the bottom of the left ear, plus oversized buttons for power and mute on the side. And it's got 16.8 million color RGB lighting, if that's your bag.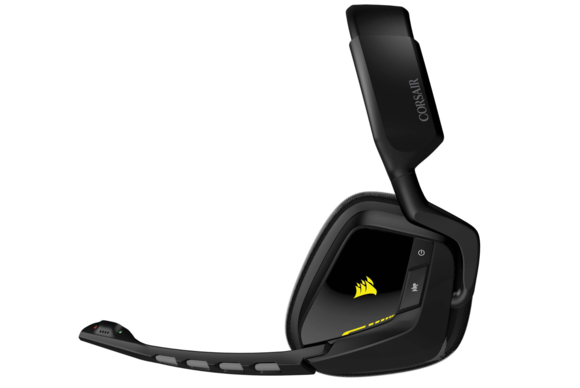 The Corsair Gaming Void Wireless is decently priced at $100.
The biggest design issue is that the Void Wireless is heavy. It's not a problem when sitting up, but if you look down or look up the headset has a tendency to slide around. I don't know whether it's because of the battery or the metal-augmented construction, but your neck gets a workout with this headset.
Sound-wise, the Void Wireless still needs some work. It sounds passable, especially while gaming, but throwing on some music sets the Void Wireless's limitations into stark relief. The low-end is muddy and distorted, and the whole range of mid-to-high-end frequencies sounds slick, like you've applied too much compression.
You can adjust the headset's sound in Corsair's software, but Corsair's software is still a bit unwieldy. Better than last year, I think, but still not on par with Razer, SteelSeries, or Logitech. Also, some users have reported problems with firmware updates—not a great sign.
"This doesn't sound like an incredibly positive review," you might say. And you're right, it's not. The Void Wireless is not an incredible headset, as I said up top. But it is the best wireless gaming headset under $150, and given how many wires are attached to my PC at any given moment, the convenience of cheap wireless might be worth sacrificing a bit of sound quality.
Previous Page 1 2 3 4 5 Next Page