The 5K display is coming. Here's how it stacks up to Retina and more
Is 5K awesome--or overkill? We crunch the numbers on these pixel-packing monitors and find the one spec that tells all.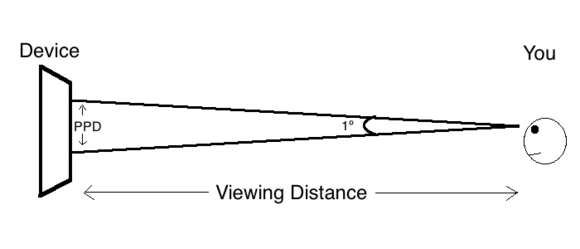 IMAGE: FINDTHEBEST. CLICK TO ENLARGE: Pixels per degree (PPD) shows you how crisp a screen will appear to the human eye.
In order to calculate PPD for each device, we need two things: PPI and average viewing distance. We already have the first figure, but the second will require some subjectivity.
There's no empirical standard for viewing distance. We based the following viewing-distance estimates on TV manufacturer recommendations for various screen sizes.
| | |
| --- | --- |
| Device Screen Size (in) | Ideal Viewing Distance (in) |
| 5 | 15 |
| 10 | 26 |
| 15 | 37 |
| 20 | 48 |
| 25 | 59 |
| 30 | 70 |
| 35 | 81 |
| 40 | 92 |
| 45 | 103 |
We kept things simple. assuming that viewing distance would be directly proportional to screen size.
Once you combine screen size and viewing distance, the benefits of 5K displays become much clearer: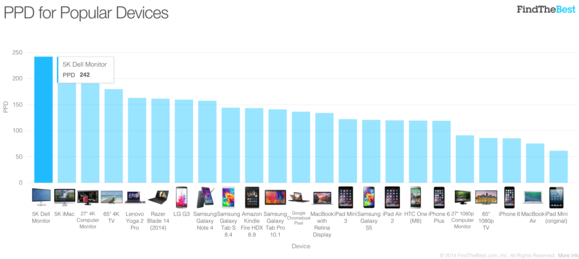 IMAGE: FINDTHEBEST.CLICK TO ENLARGE: When you factor in screen size and viewing distance, 5K displays fare well against other high-res device displays.
For its size, the 5K monitor is the most impressive display on the market, boasting 242 pixels per degree. That's over 25% better than a 4K monitor, twice as good as a Galaxy S5 and nearly four times better than the original iPad Mini--the same device that it "barely" beats according to PPI.
So next time you're shopping for a new smartphone, tablet or computer monitor, keep a close eye on which specifications you're comparing. PPI can be helpful within a given product category, but across all devices, PPD is likely the more useful metric. As always, context is king.
Behind the Spec Sheet seeks to draw new insights based on hardware data. Produced by FindtheBest, a company that aggregates specs and features in a centralized database, this guest column will share data-driven discoveries and surprises, and attempt to expose common misconceptions.