The 5K display is coming. Here's how it stacks up to Retina and more
Is 5K awesome--or overkill? We crunch the numbers on these pixel-packing monitors and find the one spec that tells all.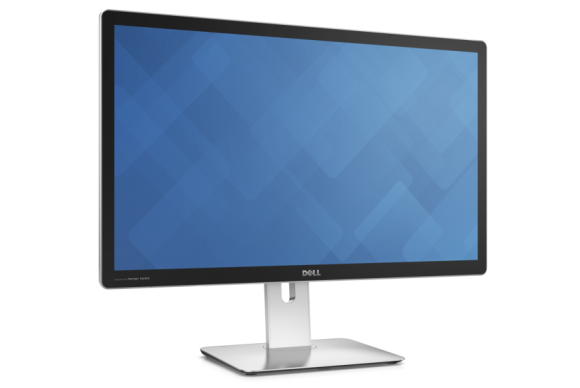 The 5K monitor has landed, with the launch of the 5K iMac and the upcoming release of a 5K Dell monitor. We're taking the next big step in screen resolution.
When we already have Retina-class and other high-res displays, though, it's natural to ask whether 5K delivers a difference worth the premium price. Dell's 5K monitor shown above, for instance, will sell for a wallet-splitting $2500.
We'll show you the answer using just two display specs.
Pixels per inch: This common spec's limitations
Within a single product category, the simplest way to compare screen sharpness is pixels per inch, or PPI. For example, here are the current smartphones with the highest PPI on the market.
This comparison might oversimplify things a bit (what about screen size? display technology?), but it's still reasonable. The smartphone with a higher PPI tends to have a crisper screen.
But what about across multiple device categories, from smartphones to TVs, tablet to computer monitors? Using the same PPI comparison, a 27-inch, 5K display is nothing special, only marginally better than a 2012 iPad Mini. See how 23 popular devices stack up by PPI below.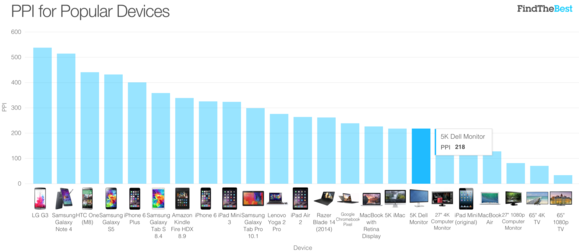 Unfortunately, comparing PPI across multiple device categories isn't a fair fight. First, consider how drastically screen size can vary. A 27-inch monitor at 218 PPI might be no crisper than a 4-inch phone at 218 PPI, but the monitor gives you over 40 times the space and 40 times the pixels (14.7M vs. 364K), with no compromise in sharpness. That's 40 cat videos, 40 Minecraft windows or 40 photos all rendered at the PPI of a decent phone.
Second, consider viewing distance. With a 4-inch phone, you'll probably hold the device around 12 inches from your face in order to read text or navigate menus--close enough to spot individual pixels below around 300 PPI. With a 27-inch display, however, you can sit or stand several feet away without sacrificing your viewing experience. As a result, even a PPI of around 150 will still look pretty sharp.
So instead of PPI, what we'd really want to find is a stat that factors in screen size and viewing distance, something that accounts for the trade-offs of display size and pixel density. Put another way, we want a stat that allows us to fairly compare across device categories.
Pixels per degree: The spec that matters
The answer is pixels per degree (PPD). PPD combines the resolution of the device with viewing distance to tell you just how crisp a screen will appear to the human eye in real-world conditions. Specifically, PPD counts the number of pixels you'll see on a device at a given distance, for every one degree of your vision. Picture a skinny triangle with a one degree angle at your eye running all the way to the device. The length of the base of this triangle is PPD: