Tested: T-Mobile's LTE is smokin' fast in seven cities
The "uncarrier" has already dumped contracts and is beating the bigger players on price. And now it's showing signs of rolling out a next-generation network that could correct its service-reliability problems.
T-Mobile may not have deployed its new LTE network in many areas yet, but in the seven cities where we recently tested the service, we found great speeds and coverage--adding another highlight to an already impressive T-Mobile story this year.
T-Mobile launched its LTE network in February, adopted an entirely contract-free plan structure in March, and began selling a $100-down-payment iPhone 5 in April. But May was arguably its biggest month, as the carrier acquired regional player MetroPCS and also debuted as a publicly traded company on the New York Stock Exchange.
What's not to like?
T-Mobile is making some good moves, but in our experience its Achilles' heel has always been (and still is) the quaility, reliability, and breath of its network service. The carrier can blast out impressive data speeds and decent voice service in certain parts of town, but often it isn't able to match the consistency and coverage of its larger competitors.
T-Mobile's new LTE network could go a long way toward fixing those problems, and it could bring the carrier's quality of service into parity with AT&T's and Verizon's if deployed correctly.
TechHive and testing partner OpenSignal evaluated the new T-Mobile LTE network during March and April in seven U.S. cities. We expected to find some high speeds, but we also found some reasonably good network availability.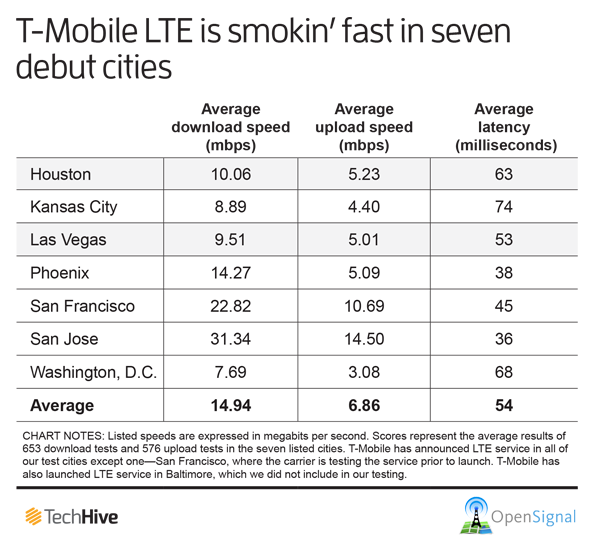 T-Mobile has been selling HSPA+ as "4G" service for the past couple of years, but in April the company finally launched its own LTE network in seven cities: Baltimore, Houston, Kansas City, Las Vegas, Phoenix, San Jose, and Washington, D.C. We were able to test the service in all of those cities except Baltimore. In addition, we were able to test T-Mobile LTE in San Francisco, where it has yet to launch officially.
The company says that it plans to grow out its LTE network to many more cities by the end of this year, coming within range of 200 million people. To offer a viable alternative to AT&T and Verizon, it will need to deploy enough cell-tower density in inner cities to produce download speeds in the midteens, and to establish enough towers in the suburbs to produce download speeds in the upper single digits.
The 'uncarrier'
On March 26, T-Mobile launched its new Simple Choice plans, which completely eliminate the two-year contract model that has so enriched the coffers of the big wireless carriers over the past ten years. The contract model lures subscribers with the chance to get a fancy smartphone at a very low price, and then locks them into a contract in which the subscribers continue paying not only monthly service charges but also the money that the carrier fronted for the phone, plus interest--and not just until the phone is paid off, but indefinitely.