Tesla to take back some Autopilot controls
In 15 to 20 years, CEO Elon Musk believes owning a car that can't drive itself will be like using a horse for travel today.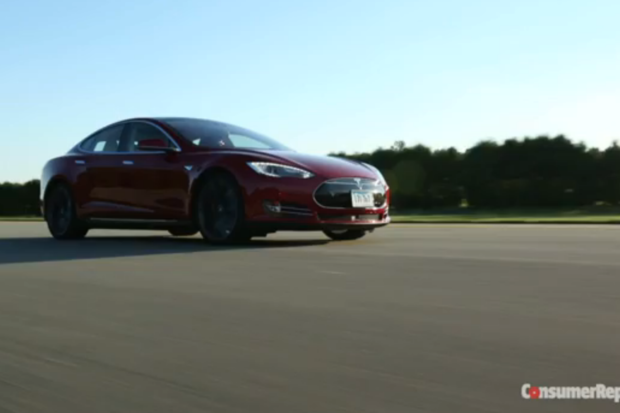 The Tesla Model S being put through its paces by Consumer Reports. Credit: Consumer Reports
Just a couple of weeks after releasing new self-driving features for its Model S vehicles through a software upgrade, Tesla will place new constraints on its Autopilot system to further limit when it can be used.
Tesla CEO Elon Musk discussed the Autopilot issue during a question-and-answer session after the company reported its third-quarter financial results on Tuesday.

The Model S now has automatic steering, lane-keeping capability and an automatic lane-change feature. Credit: Tesla
Asked whether he'd seen videos of drivers taking their hands off the steering wheels of Model S sedans and allowing the Autopilot feature to take control, Musk said he thinks changes must be made for safety.
"There's been some fairly crazy videos on YouTube.... This is not good. And we will be putting some additional constraints on when Autopilot can be activated to minimize the possibility of people doing crazy things with it," he said.
According to Musk, nearly 1 million cars have already installed the over-the-air software upgrade to the Model S Autopilot feature, which includes a beta version of Autosteer and Auto Lane Change.
Autosteer doesn't turn the Model S into a fully self-driving vehicle; it's more akin to an enhanced adaptive cruise control and lane-keeping system. But it does automatically maintain distances from other cars around the Model S.
Autosteer uses a variety of metrics -- including steering angle, steering rate and speed -- to determine the appropriate maneuvering operation.
The Auto Lane Change system is engaged when the driver uses the turn signal, moving the Model S into the adjacent lane after determining that it's safe to do so.

The Tesla Model S instrument panel and tablet-like infotainment center. Credit: Creative Commons Lic.
Model S drivers have taken to posting videos to YouTube showing how their vehicles can drive hands-free -- a practice Tesla discourages.
Tesla has been tracking data related to accidents involving Model S P85D vehicles using Autopilot and, while it's still early, Musk described the findings as "very positive."
He did, however, acknowledge that reports of Autopilot errors should come as no surprise, because it's a beta program that will need to "learn over time."
"The system is getting better with each passing week," he said. "I think it will start to feel quite refined within a few months."
Musk said Tesla has received no reports of Autopilot causing accidents and added that the technology has, in fact, prevented accidents.