TCL Roku TV review (model 50UP130): A good picture, and a fantastic user interface
While picture quality is merely good by rapidly improving LCD TV standards, TCL's P-series Roku TVs are a breeze to set up and use.
Multimedia support
TCL provides an app for playing back media from USB drives. It handled nearly all the audio formats I threw at it, including Apple Lossless and FLAC. It also easily handled HEVC (h.265) video and standard MPEG, as well as the most popular image formats, such as PNG and JPG.
But then things went a bit wonky. Contrary to the claims on its website, the 50UP130 would not play a number of the AVC (h.264) 2160p files I fed it, and it also wouldn't recognize drives formatted exFAT, or any drives beyond a certain size. It was fine with the 1-, 4-, and 8GB thumb drives I used (these were formatted FAT32 or NTFS), but it wouldn't recognize either a 1TB hard drive a 2TB SSD. I didn't have a lot in between available to me, but I'm guessing you should be okay to at least 32GB. TCL was short on the actual details when I inquired.
The poor AVC support is the biggest issue for me, simply because nearly everything I've ripped or downloaded uses the format—including a large number of my test files. It's a very, very common format for video files.
The sound emanating from the 50UP130 didn't blow me away. There's no bass to speak of, and the clarity is merely livable. I definitely recommend using a sound bar or some other type of audio reinforcement with this unit.
Should you buy one?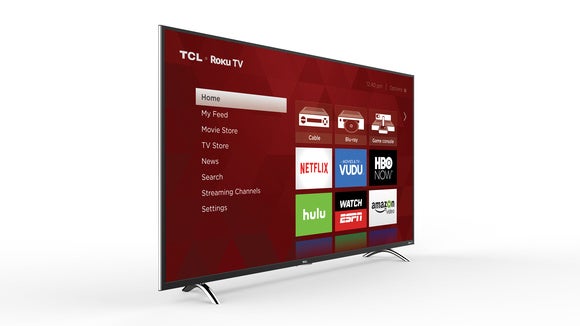 TCL's P-series are impressive TVs for the price. But motion and panning are weaknesses, and there's iffy support for h.264 files on USB media. Credit: TCL
While TCL doesn't have the brand recognition of a Sony or even a Vizio, the company ships the third-most TVs in the industry. Now that's largely in China, but the point is that they're hardly new to the TV biz. I was quite impressed with the fit and finish of our test unit. It doesn't look or feel cheap, despite the fact that it weighs a mere 27-something pounds.
Bottom line: TCL's P-series Roku TVs are a great value for the money. You couldn't ask for a better out-of-the-box experience, user interface, or remote. The picture is merely good, and motion handling a bit weak, but it's great to have Roku on board. This TV is definitely worth a look see if your funds or enthusiasm for spending large on a TV are minimal.
Previous Page 1 2 3