TCL Roku TV review (model 50UP130): A good picture, and a fantastic user interface
While picture quality is merely good by rapidly improving LCD TV standards, TCL's P-series Roku TVs are a breeze to set up and use.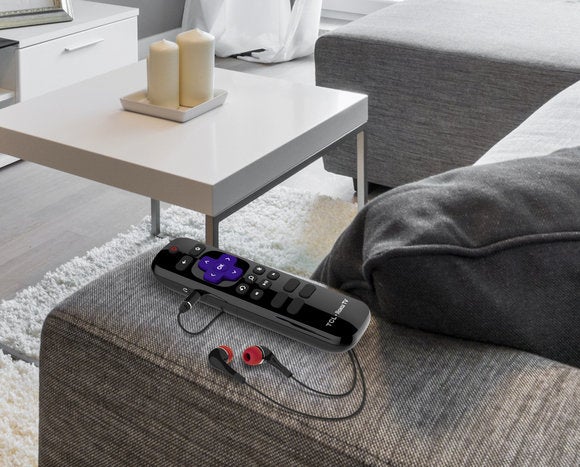 The Roku TV's remote is very much like Roku's own—simple and easy to use. It also sports a headphone jack and mic for voice navigation. Credit: TCL
One of my favorite TCL features is the button on the back of the TV that will cause said remote to start beeping so you can locate it. Even better, should you so thoroughly misplace the wee beastie that you can't hear it beep (or its battery is dead), you can use the Roku app (there are versions for Android and iOS) to control the TV from your smartphone or tablet.
Picture and sound
Having been spoiled recently by the new HDR/color-improved LCD TVs that are this year's big news, it's a bit difficult to rein in expectations when a new TV drops in. By last year's standards, and any year's budget standards, the 50UP130 has a darn good picture. Compared to state-of-the-art TVs…. But at one-quarter the cost, I shouldn't be making such comparisons.
The 50UP130's color is more accurate than I'd expected for the price, with only slight leanings to lime (greens) and orange (reds). The contrast is decent, and the overall viewing experience quite pleasant with most material.

All the usual streaming services are present and accounted for on TCL's Roku TVs. Credit: TCL
The full-array backlighting is surprisingly good, despite there being no local dimming to help bring out the blacks. There was no significant blooming or bleed from the edges, and with the settings at a reasonable level, with a pure black image displayed, it got somewhere into deep charcoal gray. That's actually pretty good for a budget LCD TV. But with the settings maxed out and the image unusable, we're still only talking 311 nits. This is not the TV to use in really bright spaces.
Sharpness and contrast are decent enough, but the P-series doesn't perform particularly well with motion and detailed panning shots. I've seen worse at 60Hz, and there are minimal artifacts with large single objects in motion. But in scenes with lots of figures in motion, or pan shots with lots of detail, there was some stutter and shimmer/moire with 2160p material where the level of details exacerbates such things. It hardly spoiled the deal, but I get paid to tell you such things.
The 50UP130 set up channels rather more quickly than I'm used to, and changing them wasn't as laborious as with some other budget TVs. The P-series also does a decent job upscaling 1080p content. Overall, I'd rate the viewing experience as good, with the caveat being the motion deal.