TCL Roku TV review (model 50UP130): A good picture, and a fantastic user interface
While picture quality is merely good by rapidly improving LCD TV standards, TCL's P-series Roku TVs are a breeze to set up and use.
With most TVs, you get the feeling that the on-screen interface used for set-up, tweaking, and browsing the apps and features was cobbled together by part-timers with only the vaguest sense of, well, what makes sense.
With TCL's P-series Roku TVs, you get the idea that there's intelligent thought behind the interface. That's a complement to both Roku and to TCL for wisely licensing Roku's technology. This truly is one of, if not the easiest, TV user interfaces to navigate. Even the parts that are still TCL's design.
Having Roku on board also takes care of the streaming capabilities nicely, with about 3000 channels. Ever done the math on how long it would take to surf 3000 channels? About four hours, given 5 seconds a channel. Better to make use of Roku's excellent search function and 4K UHD spotlight channel.
Specs
For tire-kicking purposes, TCL provided us with its $600, 50-inch model 50UP130 for this review. P-series prices start at $500 for the 43-inch 43UP130 and top out at $1100 for the 65-inch, 65UP130. All models feature 4K UHD (3840x2160 pixels), 60Hz displays with 10/100 ethernet, 802.11ac Wi-Fi, and four HDMI ports. There's also a slightly cheaper UP120 series available with a more basic remote that doesn't include a headphone output or voice navigation.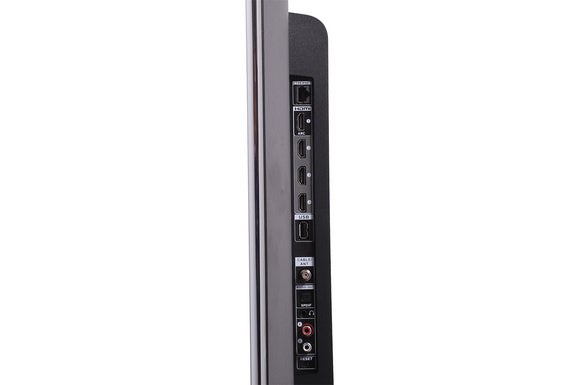 Side view showing the TCL P-series Roku TV's ports. There are four 60Hz HDMI 2.0 ports with HDCP 2.2 support for copy-protected 4K UHD content (one HDMI port supports ARC). Credit: TCL
When TCL first showed me the P-series TVs, I figured that because of the price, HDMI would be a mixed bag. Nope. All four ports are 60Hz HDMI 2.0 and support HDCP 2.2 copy protection required to play commercial 2160p content. One HDMI supports ARC (audio return channel) for driving a sound bar or the like, which you'll probably want—the 50UP130's sound is average at best.
There's also RCA analog audio as well as composite video in. There is, however, no component video input. Besides HDMI ARC, you can also output audio via RCA or optical S/PDIF. A USB 3.0 port lets you load media from a thumb drive.
Remote
Anyone familiar with Roku's streaming boxes and sticks will find TCL's P-series remote to be quite similar. It's small, simple, and just enough different from the Roku to make you pause. There are a couple of buttons that are different, but as buyers are likely to be Roku newbies, or ditch the standalone box for the in-set service, it's a trivial concern—especially as there's headphone output and voice nav. I also loved the way the remote just paired up without a lot of fuss or bother.