T-Mobile ties Verizon for LTE speed supremacy in latest OpenSignal report
T-Mobile may be having fun with the competition in public, but the company is deadly serious about improving its infrastructure--and it's paying off.
Verizon is still the LTE king among U.S. mobile carriers, but T-Mobile wants to be the heir apparent. That's the main takeaway from the latest State of Mobile Networks: USA report from OpenSignal. The crowd-sourced mobile data company found that T-Mobile is closing in on AT&T in terms of nationwide coverage, and the "Un-carrier" is tied with Verizon for the 4G speed crown.
OpenSignal's report pulls data from 180,000 people nationwide who have the company's mobile app installed on their smartphone.
Can you hear T-Mobile now?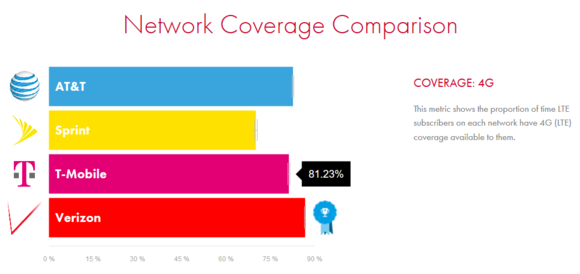 OpenSignal. Click on image to enlarge.
OpenSignal's data says that T-Mobile's 4G coverage is now at 81 percent. That means that whenever users were connected, T-Mobile's 4G customers received a 4G signal 81.2 percent of the time. Verizon is still further ahead of T-Mobile at 86.7 percent, but AT&T's coverage is just within reach at 82.6 percent.
OpenSignal credits T-Mobile's coverage surge to the company's relatively recent buildout of service in the 700 Megahertz range. Those airwaves make it possible for cell signals to travel longer distances in suburban and rural areas, OpenSignal says. In urban centers, these signals can also travel more efficiently through buildings making it possible to get better reception inside.
Why this matters: Getting a sense of how the carriers measure up is always a good thing. But what's so surprising is how T-Mobile has gone from the perennial "fourth choice" among U.S. carriers to a network leader. Not only is it making waves with its Crazy Larry-style deals, which aren't always what they're cracked up to be, but the company is also improving the overall quality of its service. If you're in the market for a new carrier, it appears T-Mobile is well worth a look.
Speed demon


OpenSignal. Click on email to enlarge
Compared to other major 4G LTE countries, the average U.S. download speed isn't that great. While advanced LTE countries are getting around 20 megabit-per-second speeds Americans have to deal with 9.9 Mbps, on average. That score puts the U.S. on par with Argentina, a newcomer to the LTE revolution, according to OpenSignal.
That said, if you're on T-Mobile or Verizon and live in a major urban center you'll often experience speeds well above the average. Overall, T-Mobile's average LTE download speed nationwide was 12.3 Mbps, while Verizon averaged 12 Mbps. That's such a small difference it "amounted to a statistical tie" according to OpenSignal.
OpenSignal looked at eleven major urban centers across the U.S., including Atlanta, Boston, Chicago, Dallas, Houston, Los Angeles, Miami, New York, Philadelphia, San Francisco, and Washington, DC. Among those eleven, T-Mobile won the speed prize in four centers, Verizon in three, and the two companies tied in another three. The eleventh city, Houston, ended up as a tie between all four major carriers with a lackluster speed of 9.8 Mbps.