Stir Kinetic Desk M1 review: The smartest desk $2,990 can buy
It costs a little more than your standard IKEA affair, but this adjustable sit-and-stand desk is packed with intelligence and a desire to make you healthier.
I loved seeing my calories burned showing up in the Fitbit app, but Fitbit doesn't natively support Apple's HealthKit, so that data isn't sent to the Health app. A $3 app called Sync Solver can send Fitbit data to Health, but I'm running the iOS 9 beta, and Sync Solver crashes on launch. It's worth noting that you can also export the data from Fitbit's website—this used to require a premium subscription, but now it's free for everybody.
The value of passive tracking
I really wanted the Apple Watch to not just remind me to get up every hour, but also to quantify more accurately how much time I'd spent standing versus sitting. I thought with a wearable that tracks my standing, and my regular old standing desk, I could approximate the benefit of Stir's approach for less money. But the Apple Watch can't tell the difference between sitting and standing when you're otherwise pretty stationary—if I'm standing relatively still at my standing desk, I'll still get the nudge to stand up, and I'll have to go walk around, unless I feel like doing jumping jacks or running in place. (Spoiler: I don't ever feel like doing that.)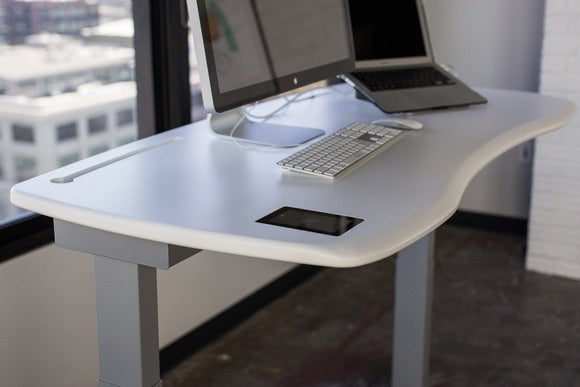 The embedded 5-inch touchscreen is removable and replaceable, so if Stir ever updates its components, you won't have to buy a whole new desk. Credit: Adam Murray
So I can see the benefit to passive tracking—thanks to the proximity sensor, the M1 can tell if you're at the desk and just keep the clock running. The metric you're most interested in is the percentage of time spent standing. It was easy for me to start with a goal of 35 percent and work my way up to 50 percent in just a couple weeks, by just nudging my goal up a little at a time, and following the prompts to stand. (It's also easy to cheat the percentage by just doing your sitting-down work in a different location, but that's on you.) About a week in, I seemed to hit my sweet spot: I found myself reaching over to double-tap the screen and raise the desk a few minutes before it asked me to.
The M1 also showed me how I can stand for a longer period of time total if I don't try to do it all in one chunk. With my old adjustable desk, I would put it up at two times: seldom or never. Most days it would stay down, and on days I would put it up, I would put it up once, stand until I couldn't take it anymore, and then put it back down. The M1 got me to change positions more frequently, and even when the review unit was sent back, that habit carried over to my old adjustable desk—I'm standing at least twice a day and usually more.
Previous Page 1 2 3 4 5 Next Page