Stir Kinetic Desk M1 review: The smartest desk $2,990 can buy
It costs a little more than your standard IKEA affair, but this adjustable sit-and-stand desk is packed with intelligence and a desire to make you healthier.
But most of the time—pretty much all of the time—I was willing to move when the desk wanted me to. Over time, the desk is supposed to learn your habits based on if you respond to the WhisperBreath prompts. If you never stand up in the morning, it should stop asking you to. I had a loaner M1 for a couple of weeks, and since I generally responded affirmatively to the prompts, I can't really evaluate how well it learned from me.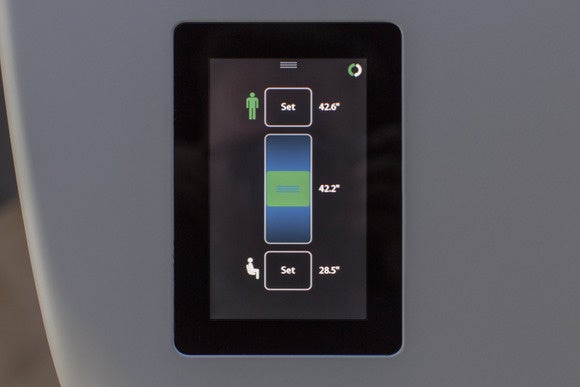 The desk remembers each user's preferred heights, and you can make little adjustments here anytime. Credit: Adam Murray
The screen doesn't seem as high-resolution as it could be—it's 800x400, which is good enough to read the graphs, but for eyes accustomed to Retina displays, it can look a little soft. I did have to reboot the desk twice during my testing period, once when it wasn't graphing my sit/stand time, and another time when the date was stuck a few days in the past. Both times, simply unplugging the desk, waiting 10 seconds, and plugging it back in was enough to get things working again. And telling Twitter you have to reboot your desk is a fun way to pass the time while it starts up.
Quantified desk
The M1 supports multiple users—as many as you like, no limit—in case you put it in an office and want to share with coworkers. You can log in and out via the screen, but the desk also has Bluetooth, so if you have a supported Fitbit device, the desk can recognize you based on that. It even sends an estimate of your calories burned to your Fitbit, so you get credit.
That's great, but for this price, I think the Fitbit integration should be a little more robust. When I first saw the Stir Kinetic F1 when it launched in 2013, founder JP Labrosse mentioned that someday the desk could take your Fitbit data into account when prompting you to sit or stand: It could learn, for example, that on days you take a run in the morning, you'll want to sit until the afternoon, but on rest days you could stand a lot earlier. When I saw the M1 at CES back in January, Labrosse said that feature was being beta-tested. It's still not live, but since the desk is connected to Wi-Fi all the time, Stir can push updates whenever they're ready. I'd also like to see more Bluetooth devices being used to identify users—chances you have a Bluetooth smartphone are much greater than the chance you have a Fitbit.
Previous Page 1 2 3 4 5 Next Page