Stir Kinetic Desk M1 review: The smartest desk $2,990 can buy
It costs a little more than your standard IKEA affair, but this adjustable sit-and-stand desk is packed with intelligence and a desire to make you healthier.
The adjustment from sitting to standing was very smooth—I could keep reading, if not typing, as my desk rose or fell to its next position, and the desk didn't wobble in any position unless I was typing really, really hard.
On screen
But the Stir Kinetic M1 is more than just a desk that goes up and down and looks good while doing it. It's got a 5-inch capacative touchscreen embedded in the surface, sensors that know if you're at the desk or not, and artificial intelligence to learn your habits and nudge you toward healthier ones.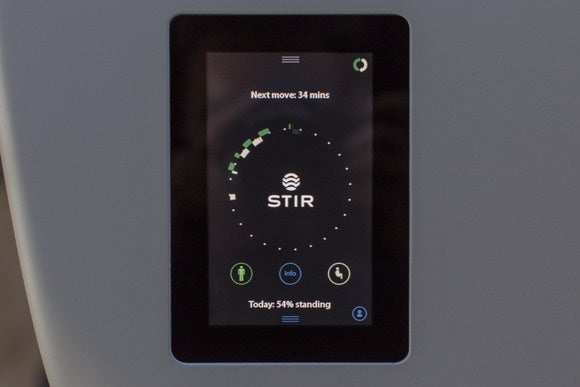 The screen's main interface, showing my sitting (white) and standing time (green) on a circular grid. Just double-tap anywhere to switch positions. Credit: Adam Murray
I started by adding the desk to my Wi-Fi network and creating an account. That's all done on the touchscreen—the M1 doesn't have a companion app for your smartphone or computer, although it can send your data to Fitbit (more on that later). In my account, I entered my height, weight, and gender, and set my goals, starting with standing for 40 minutes at a stretch, for a total of 35 percent of my day. It's easy to adjust these goals as you go along, and by the end of my two-week test, I was standing for 50 percent of my day—and really enjoying it. The screen shows your progress over each day, week, month, and even the whole year, with your goal clearly marked so you can see at a glance how you're measuring up. It's easy to swipe between views and tap the graphs for more info.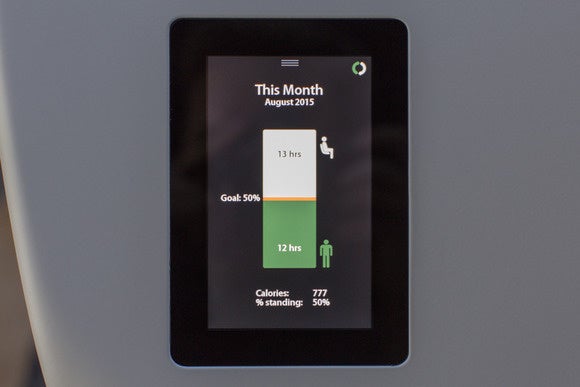 You can see graphs by week and month, as well as an estimate of the extra calories you've burned by not sitting all the time. Credit: Adam Murray
When it's time to switch positions, the desk uses an optional feature called WhisperBreath to prompt you. You could leave this off and just remember to switch positions on your own, and the desk would still track your sitting/standing time and calories burned, but I found WhisperBreath to be a great solution. The desk just kind of "breathes," subtly raising itself ever so slightly, and then lowering back down. It's timed to a human breath, and it feels like the desk is giving a little sigh. You can reach over and double-tap the screen to change positions, or just ignore WhisperBreath and keep working. It's a nice, nonjarring reminder, and I found it easy to ignore if I was comfortable where I was.
Previous Page 1 2 3 4 5 Next Page