Stir Kinetic Desk M1 review: The smartest desk $2,990 can buy
It costs a little more than your standard IKEA affair, but this adjustable sit-and-stand desk is packed with intelligence and a desire to make you healthier.
They say sitting is the new smoking, but "they" also can't seem to agree whether or not bacon is truly good for you, so ¯\_(ツ)_/¯. Still, getting my Apple Watch has made me more conscious of the fact that I tend to spend long stretches sitting down when I'm working. The problem is, the Apple Watch doesn't track sitting and standing quite in the way I thought it would.
Stir's Kinetic Desk M1 is a well-built, comfortable workstation with an electric motor that can quickly, smoothly adjust between sitting and standing positions. But it also has an embedded screen where you can set goals for how often you'd like to stand, and then the desk can actually remind you when it's time to get up and even learn your preferences over time.
What it's like
People in the office noticed the M1 right away, and not only because I was sitting at a new workstation a short walk away from my old adjustable desk. The M1 is a great-looking piece of office furniture. It's got a curved edge that I love, as someone who knows I'm not supposed to rest my forearms on the desk while I'm typing, but types like that all the time anyway. The sloped edge is so much more comfortable under my arms, whether I'm sitting or standing.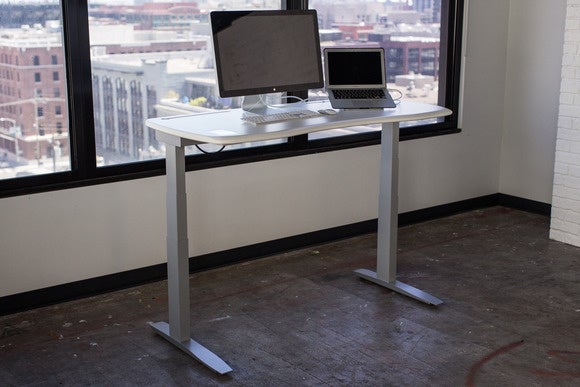 The M1 comes in white or black. If you're ordering them for a whole office, you can get them customized to match the rest of your furniture. Credit: Adam Murray
A cable slot lets you tuck your cables out of sight, and you can plug your laptop, display, and other peripherals into four three-pronged outlets on the back of the desk. Two small metal shelves give you a place to stash excess cable or adapter bricks, and tie the whole mess down with Velcro straps, but I had to fiddle for quite a while to make my cables look neat and tidy on the shelves. (Stir's flagship desk, the F1, has built-in compartments for your power adapters and cables, complete with eight power outlets and four USB outlets, so all your cables can stay totally out of sight.) But once I got it all set, I loved how I only had one cord plugging in the desk, and didn't have to worry about dangling cables getting snagged on anything when I put the desk up or down.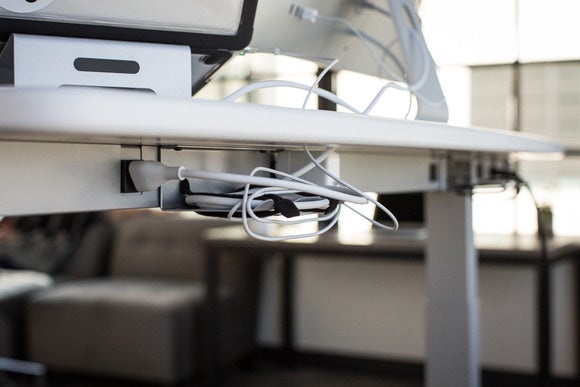 The cable shelves aren't quite as tidy as the F1's built-in, out-of-sight-out-of-mind compartments, but at least nothing is dangling down. Credit: Adam Murray