Sportiiiis + Viiiiva puts fit tech on your face
Before Google Glass, there was Sportiiiis—an LED-based head-up display for athletes.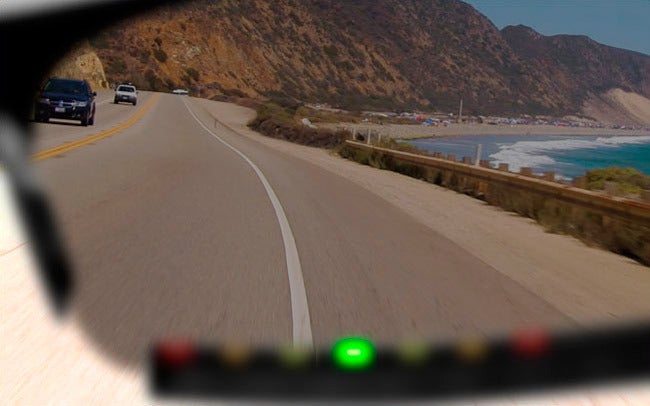 When the green LED blinks on the Sportiiiis, you're in your target heart rate.
The Sportiiiis connects with a variety of different sensors through the Viiiiva heart-rate monitor. Let me explain—the Viiiiva is 4iiii's basic, Bluetooth-enabled chest strap monitor, which connects to an iPhone app via Bluetooth 4.0 (which means it only works with iPhone 4S or later). Through the free iPhone app, you can connect various ANT+ sensors, such as Garmin running watches, to your Viiiiva monitor. The Viiiiva then pushes that information to the Sportiiiis, so you can see the sensor information displayed as LEDs while you're running or biking.
It sounds a little complicated, but it's not—the bottom line is: While you can purchase the Sportiiiis alone, you will need additional sensors for it to be of any use. The Viiiiva is a particularly useful sensor, because it can connect to all of your other ANT+ sensors, and push that data to the Sportiiiis (as well as to an iPhone app).
Pairing the Sportiiiis with the Viiiiva (and other 4iiii sensors) can be a little confusing, at first. The Sportiiiis' multifunction button acts as a power button, a mode button, and a pairing button. You press and hold it until you hear various commands—when you hear the command you want to use, you release it. So if you press and hold it until you hear "Power" and then release it, the Sportiiiis will turn off. Similarly, you can change the mode (running/biking), pair it with your Viiiiva, or change the volume. Pairing ANT+ sensors with the Viiiiva is easier—just open up the iOS app and tap a button.
Web services/mobile apps
The Sportiiiis + Viiiiva aren't standalone devices; you'll need to set up the Sportiiiis using 4iiii's software (available for PC or Mac) or the iOS app. Luckily, the software is straightforward and easy to use—once you have downloaded and installed it. (Note that my antivirus program kept flagging the PC version of the software as dangerous).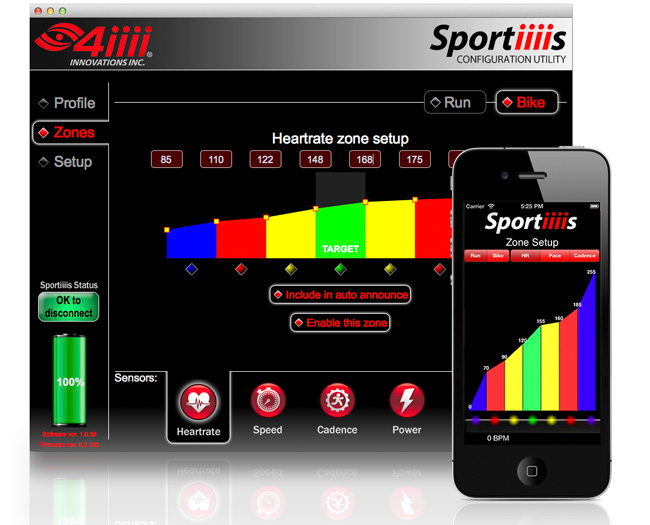 Once installed, the 4iiii software asks you to fill out a basic profile, including height, weight, and sex, for calorie computation, and then lets you choose different "zones" for different types of sensors. Each sensor has a default zone, so you don't have to choose zones at random if you're just a beginner, but this is useful if you have specific goals in mind.
You can choose zones—ranging from low to ideal to high (seven lights on the Sportiiiis equals seven corresponding zones) for heart rate, pace, and cadence; and you can customize them for running or cycling. For example, if your goal is to run a ten-minute mile, you can make the ten-minute mile your target zone. You can switch this up whenever you want (just be sure to connect your Sportiiiis and update it), so your target can be a ten-minute mile one day and a six-minute mile the next.