Sportiiiis + Viiiiva puts fit tech on your face
Before Google Glass, there was Sportiiiis—an LED-based head-up display for athletes.
Long before Google Glass entered the wearable tech market, there was 4iiii's Sportiiiis: a small device that attaches to your sunglasses to let you know—via brightly-colored LEDs—how your workout is going. While it doesn't have all the bells and whistles that Google Glass offers, the Sportiiiis is a neat gadget ideal for distance runners and cyclists.
We reviewed the Sportiiiis + Viiiiva kit, but these are actually two different products that you can purchase separately ($150 for the Sportiiiis and $80 for the Viiiiva) or together ($200). The Sportiiiis is an LED-based display that attaches to a pair of sunglasses and connects wirelessly to various sensors, while the Viiiiva is one of those sensor—specifically, a chest strap heart-rate monitor. 4iiii Innovations also sells other sensors that work with the Sportiiiis, including the Riiiide bike speed/cadence sensor ($60) and the Striiiide running speed/cadence sensor.
Fitness level
Sportiiiis + Viiiiva can be used by anyone, but it's not very useful for casual users. The Viiiiva heart-rate monitor tracks your heart rate and pushes that information to the Sportiiiis display, so it's designed for more serious athletes who are interested in constant heart rate monitoring.
Best activities
The Sportiiiis display is designed to attach to a pair of sunglasses, so it follows that the product is best used while running or cycling outside. Of course, you can attach the Sportiiiis to other types of glasses—such as regular glasses or even Google Glass frames—so it's not strictly limited to outdoor workouts.
Design and features
The Sportiiiis is small and light, about the size of an AA battery (not including the slim, flexible arm). It attaches securely to just about any pair of sunglasses or regular glasses using zip ties. The Sportiiiis comes with two mounts and ten zip ties.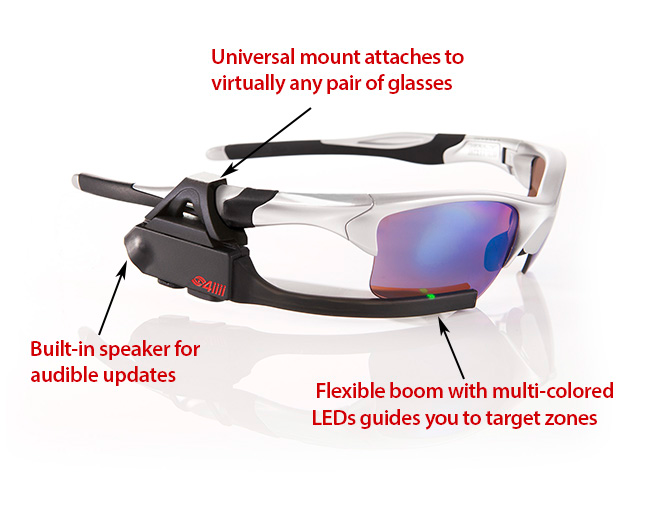 To attach the Sportiiiis, you just slide two zip ties through the mount, tighten them around the frame of your glasses, and then slide the Sportiiiis into the mount. For what it's worth, this somewhat unconventional mounting method is very secure—the Sportiiiis didn't move at all during workouts.
The Sportiiiis has a speaker on one end, a Micro-USB port and a power/mode multifunction button in the middle, and a flexible rubber arm at the other end. The speaker sits near your ear to give you audio prompts (tap the Sportiiiis to hear your current heart rate, cadence, speed, etc.) while the flexible arm curves inside (or outside) the lens.
The arm sits at the bottom of your field of vision, so you can see the lights without being distracted from your workout. The arm has seven bright, differently colored LED lights running along it that blink to let you know how you're doing. For example, if you're within your target heart-rate zone, the center green light will blink. But if your heart rate is too fast or too slow, different lights will blink to indicate where you are on the spectrum.