SplunkLive! makes for revealing IT management showcase
Splunk users share frustrations, victories at SplunkLive! Boston

Jigar Kadakia, Partners Healthcare: Put a dedicated analytics person on your team or you will fail. Credit: Bob Brown/NetworkWorld
Kadakia acknowledged right away that the Splunk implementation hasn't gone smoothly, but he's optimistic it is on the track now and that Partners will eventually be able to use Splunk for more advanced purposes, including business intelligence and analytics dashboards that will improve operations on the clinical and ER sides. Partners is even looking to co-develop modules with Splunk that could be given back to the community (and perhaps save organizations from having to fork over big bucks to third-parties for such modules).
Among the issues Partners encountered was Splunk software not playing nicely with EMC hardware despite assurances from both vendors, and that took about six months to sort out (Kadakia wishes that Splunk's cloud-based offerings were further along a couple of years back when his group adopted Splunk, but instead Partners went with an on-premises version better able to handle its processing needs.). Kadakia also urged Splunk to rethink its licensing model to accommodate realistic enterprise use of the software given exploding data growth ("the more you consume, the more you pay approach is frustrating for me"); he suggested a tiered model based on the number of users.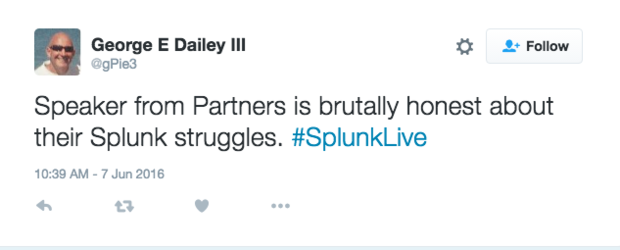 Attendees reacted to Kadakia's SplunkLive! talk via social media, at the urging of show organizers who held a contest for the best #splunklive tweets. Credit: Twitter
A more general piece of advice shared by Kadakia regarding tools like those from Splunk that collect oodles of machine data for the analyzing pleasure of employees is that certain skills are really needed to make sense of the data regardless of how nice the dashboards look. "People can't sit around all day and look at dashboards," he said, noting that what often happens is that employees have to squeeze the data analysis in between their real job duties. Hiring dedicated statisticians or people with true analytical capabilities is worth considering as part of any such project – not that such people are easy to find, he said.
Dunkin' Brands: Index Everything
Dunkin' Brands' Matt Kraft, director of application development and consumer technology, said regular proclamations by the coffee and donut company's CEO about the next big mobile app capability keep the IT team on its toes. Dunkin', which this week went live with mobile ordering, now has 4.5 million Perks Rewards loyalty members – and that adds up to loads of data that that the company uses to make important decisions.

Matt Kraft, Dunkin' Brands: "We do take an approach of index everything"