Spire review: Keep calm and carry on with this beautiful breath-tracking device
An overhauled iOS app breathes new life into Spire, but it's still pretty pricey.
Smartphone stress relief
Because the device doesn't have a display, you'll need your phone nearby at all times to receive notifications, which are endlessly customizable. You can set your Spire to vibrate and send you an alert when you've been sitting for too long, when you need to take a deep breath, when you've been intensely focused for awhile, or when you're in a sustained period of calm. All of these reminders are designed to make you more conscious of your breathing and your state of mind.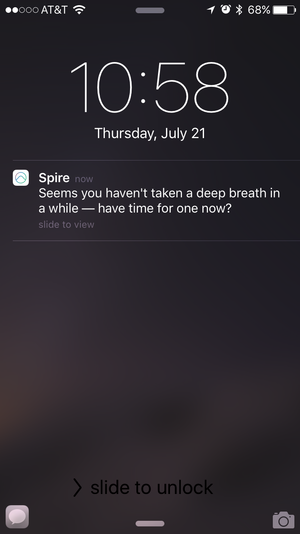 Spire's notifications nudge you to focus on your mind, not just your step count.
The app also integrates with your calendar, camera roll, and location, so you have a better idea of where and when you're most stressed, focused, or calm. These integrations, which are new to the app, are a good start toward helping you figure out what triggers your stress before it happens. If a regular meeting with your boss throws you into tense mode, taking some deep breaths or meditating ahead of time could ease the stress.
Spire also has an Apple Watch app, so I was getting notifications all over the place. This is how I realized I am an intensely focused person, which isn't all that surprising. I'm rarely prone to panic, but I'm also not very calm. The device and watch app vibrated gently to remind me to take deep breaths when I was in the midst of a long stretch of focus. Guided meditative boosts, which are accessible in a different part of the app and range in length and topic, were calming, reminding me to release tension from my head and shoulders and take intentional breaths. It was like a yoga class without any movement.
Bottom line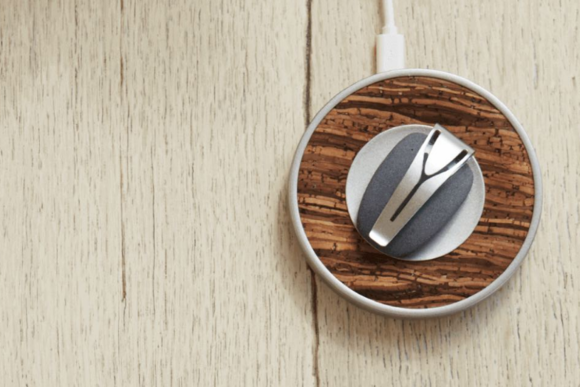 Spire is beautifully designed, and so is its charging puck.
I have a few issues with Spire. It takes forever to sync data from the device to your iPhone if you don't let the Spire app run continuously in the background. (I'm not a big fan of keeping location-tracking apps open to keep my battery alive as long as possible.) But the device only stores six hours of information locally before it's lost, so if you forget to sync the two, your data disappears.
I also wish Spire were a more useful activity tracker. It tracks your steps, active minutes, and calories burned, but it has no clue what kind of exercise you're doing. You have to manually add a note to each burst of activity. The device also doesn't track sleep, though Spire cofounder and chief scientist Neema Morajevi told me that's in the works.