Spire review: Keep calm and carry on with this beautiful breath-tracking device
An overhauled iOS app breathes new life into Spire, but it's still pretty pricey.
Fitness trackers are a dime a dozen, but devices that focus on your mind instead of body are typically overlooked—mental health is incredibly personal and can be difficult to define, which makes it even harder to measure. That's what makes Spire, a breath -tracking device that aims to curb stress, stand out. This device was released in 2014 but got a boost this summer with an Apple Store retail presence and an overhauled iOS app, so I decided to give the company-described "mind and body tracker" a closer look to see if it really combats stress.
Spire is a graphite-colored oval-shaped stone attached to a silver clip. You wear it on your pants or tucked inside your bra with the clip facing out. But its simple looks belie its more complex functions.
"What does that thing do?" my boyfriend asked as he watched me slide the device onto the waistband of my workout pants.
"Oh, it reminds me to breathe," I replied without thinking.
"Um…your brain already does that," he replied.
OK, true.
More specifically, Spire reminds you when to take deep, calming breaths in an effort to encourage more mindfulness. It's also an activity tracker in that it counts your steps, but it's not the best workout companion. It doesn't have a display and it won't urge you to run faster or get your heart rate up. Instead, Spire relies on its app to do the heavy lifting.
How it works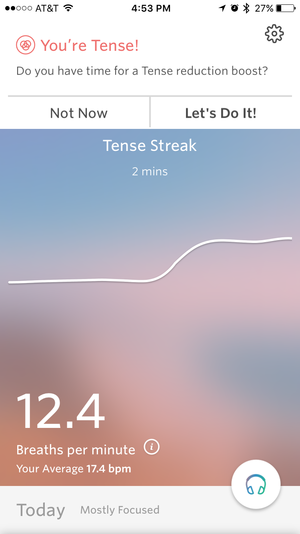 Spire's home screen shows your breath in real-time.
Setting up Spire is as easy as any other Bluetooth device. Make sure your phone's Bluetooth is turned on, install the Spire app, and pair the device to your phone.
Spire is a beautiful device. It's too bad no one will see you wearing it. The stone has to be touching your skin, which I somehow didn't realize until hours into fastening it to my pants with the stone facing outward. I didn't have any issues with friction when the stone was pressed against my skin, not even when running with Spire clipped inside my sports bra, but you'll definitely feel that it's there.
What Spire looks for is patterns in your breathing, which is why it has to be so close to your body. As you inhale and exhale, Spire tracks your chest movement, then sends that information to your phone. Your breathing appears in real-time on the app home screen as an undulating line. After you use the device for a few days, you'll establish your individual baseline, so your breathing isn't being compared to an average standard. Your breathing says a lot about your state of mind. Erratic breaths signal stress, while steady and slow ones indicate deep focus.