Sound Blaster E5: This portable DAC and headphone amp is an audio powerhouse
Creative's Sound Blaster E5 pulls off the trick of being a jack of all trades with nary a significant compromise.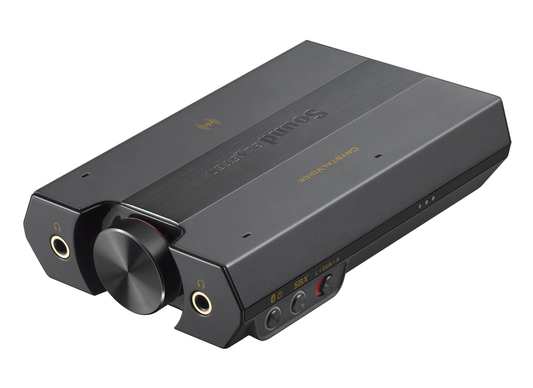 Sound Blaster: the 20-year-old brand is a fond memory for some, an unknown quantity for others. How it resonates with you likely depends on how long you've on the gaming scene. But brand-owner Creative Labs has always been an audio company first and a gaming company second. And its passion for delivering great audio experiences at reasonable prices is manifest in the Sound Blaster E5.
The E5 is a portable, battery-powered DAC (digital-to-analog converter), USB audio device, headphone amp, and more bundled into a relatively compact package. But don't let its small size, 1/8-inch jacks, and Bluetooth connectivity fool you into thinking this is a low-fidelity box. The E5 is loaded with high-quality silicon, plus Creative's own SB Axx1 audio processor and the software that goes with it.
The E5 isn't limited to use with headphones, either. It can convert an analog audio signal to digital via its line-level input, its stereo mic input, or its integrated mics. It's outfitted with three mics, but only two are active at once. A gyroscope detects the E5's orientation--portrait or landscape--as you record and activates them accordingly.
The E5 can also convert a digital signal to analog (via its optical input, USB port, or Bluetooth connection). Finally, it can send a bit stream to an outboard DAC via an optical output. And it can do all that at bit rates, sampling frequencies, and signal-to-noise ratios that promise the highest fidelity to the source material: Up to 24-bit/192kHz with 120dB SNR.
Creative selected well-known components that make significant contributions to the E5's excellent performance: Digital-to-analog conversions are handled by a Cirrus Logic CS4398 DAC, while a Cirrus Logic CS5361 handles conversions in the other direction. A Texas Instruments TPA6120A2 headphone amp drives two 1/8-inch headphone outputs. Creative says the E5 will drive headphones that present up to 600 ohms of impedance (although you need to flip a gain-boost switch to drive headphones that present more than 330 ohms of impedance). I don't own any cans that are that hard to drive, but I did evaluate the amp with three of my favorite pairs (see "Listening tests" below for details).
Creative's SB Axx1 is the fourth leg of the E5's stool. It's a digital signal processor that runs a number of software programs that have been associated with Sound Blaster products for years. A button on the side of the E5 toggles these on and off. But before you flip that switch, download and install Creative's Sound Blaster Central app on your Android or iOS device (Windows and Mac software is also available).
You can use the software to fine tune the E5's many audio effects. You can also configure its line/mic/optical input (and adjust the mic input's gain if you're using it that way). Creative says you can expect to get up to eight hours from its 3200mAh lithium-polymer battery, but I didn't perform a battery-rundown test to verify that.