Sorcery! Parts One and Two review: Choose your own adventure in this glorious Steve Jackson adaptation
1980s sword-and-board meets 2016
I've fought an assassin. I've saved an orcish princess. I've clambered through overflowing sewers. I've died from drinking too much river water, and died again from contracting plague. I've fought monsters, eaten rations, and rested at more inns than I'd care to recall. I've even—don't tell anyone—thrown rocks at a little girl in exchange for an apple. (It wasn't one of my prouder moments.)
This is Steve Jackson's Sorcery! reimagined for 2016. And it's also the latest from Inkle, creator of the acclaimed 80 Days.
I'll put a spell on you
The Steve Jackson's Sorcery! saga is actually pretty strange. Older readers might remember a series of identically-titled adventure gamebooks from the 1980s, of which this is a video game adaptation. And if you're under the age of 30, that sentence probably sounds like gibberish.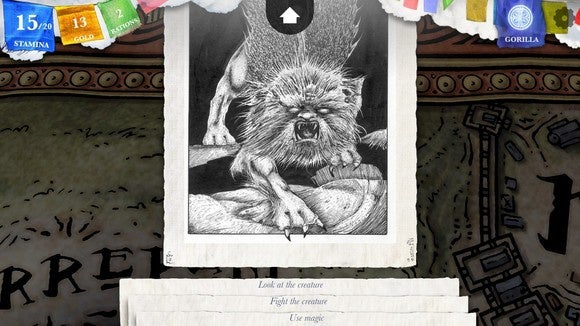 The best explanation I can come up with: Adventure gamebooks were more complicated than your standard choose-your-own-adventure, but less detailed than a full pen-and-paper role-playing game like Dungeons & Dragons. Instead, they drew from aspects of both—the branching novel format of the CYOA, and the combat/dice rolls/spellcasting/et cetera of D&D.
I'm probably not doing the concept justice, given I never owned any. However, if you're interested I highly recommend you check out the Internet Archive's collection.
Regardless, Inkle's now adapted (or at least started to adapt) the Sorcery books to digital form, fleshing them out in the process. And the result, much like the gamebooks of old, is one part choose-your-own-adventure, one part role-playing game.
You begin your adventure in the realm of Analand and the Shamutanti Hills. Your character is represented as a little black-and-white pawn, flat on a storybook map. There are three basic actions: You drag your pawn forward to the next story beat, you make choices within those story beats, and sometimes those beats lead to combat.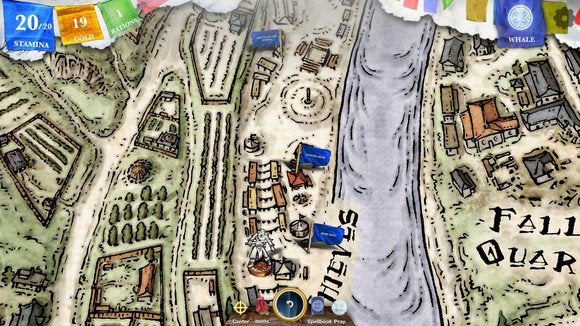 Beats are represented on the map by little blue flags, demarcated with short descriptions—"Sit by the river" or "Escape!" or "Camp outside." These represent your high-level choices in Sorcery, what steps you take on your journey.
And there are a lot of them, many of which are mutually exclusive. Your path is your path, but just like 80 Days there are an incredible number of deviations, and deviations built upon deviations—plot points that only came up later in the game because I'd already made certain choices earlier on. Former-enemies turned friends, villages saved, witches befriended. Whatever path you choose, you're going to miss out on a lot of what Sorcery has to offer.