Solstice Arena brings competitive MOBA gaming to mobile devices
Zynga's Solstice Arena proves competitive MOBA game can shine on mobile devices.
This is a Zynga game, which generally means paying through the nose for in-app purchases. Solstice Arena is refreshingly progressive on this front, adopting the League of Legends model wholesale and making a limited number of characters are available on a "free trial" basis. You can purchases them with gems, a currency that you purchases with real-world dollars. Or you can purchases them with swords, a currency earned by playing matches against other players or computer controlled bots. It's a beautiful system: the free characters are rotated at regular intervals, leaving you with plenty of time to sample every one, and find the roles and abilities that you like best.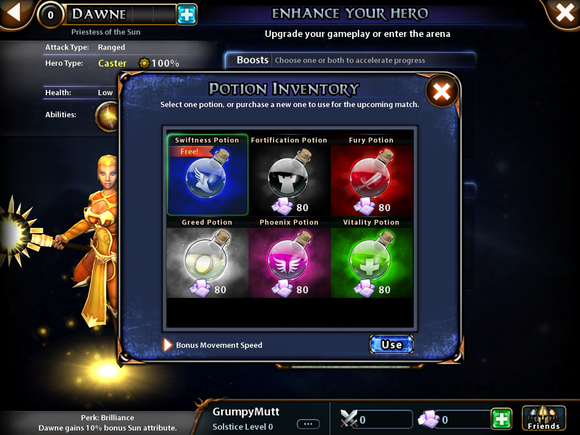 If you'd rather not pay any money, you can simply play many, many matches and get to keep the character you like best. If you're not averse to paying money, there are also customizable skins to collect, which offer no advantages but allow you to get a stylish look and feel for your favorite character. I've always considered this the perfect free-to-play compromise, as evinced by my collection of skins on League of Legends: if you like the game, you can play and earn the characters you want to keep. If you really like the game, spend a few bucks to get that perfect look .Pay-to-win does rear its ugly head, in the form of select potions that can only be purchased with gems that will bolster your team's defenses, or give you a minor boost to attack damage. It's a bit too soon to tell what impact these will have on general play, but it does give me pause.
All told, Solstice Arena distills the MOBA experience onto mobile devices, simplifying the experience without sapping that singular competitive spirit. It's fast, it's fun, and it's free: if you own an iPad or iPhone, head on over to the App Store and give it a whirl.