Sleep Number i8 mattress review: Trial and error eventually leads to better sleep
After some trial and error, this mattress will help you get more high-quality sleep.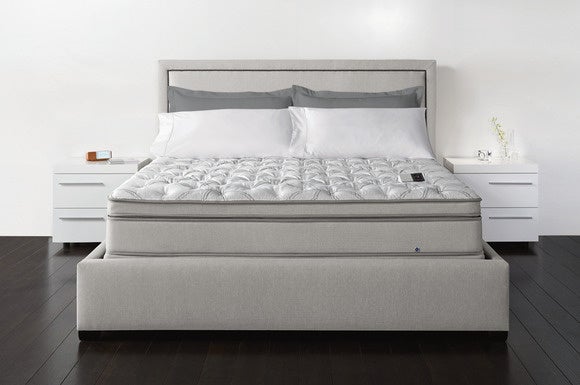 For those who have trouble sleeping, having a few options available can help you count a few more sheep. The futon in the den might work for a night or two, or a maybe a radio that plays ocean sounds and helps you doze off faster. Yet, what most of us want is a way to sleep better in the bed we use every night. The Sleep Number i8 is a smart way to solve the problem. It's expensive for what you get, but the controls are easy for anyone to use, and the results were undeniable.
I had a team of three people set up and install the i8 mattress, which came with a base on legs, extra pillowcases, a mattress cover, and even a plush bedspread (items not included in the price of the mattress). Apart from all of the tech features that I'll explain more fully in a moment, it's important to point out that the mattress itself is designed to send you to la-la land quickly. Even reading the specs makes me sleepy. There's three inches of foam padding in a 13-inch fabric top cover that uses antimicrobial agents and woven material to keep you from getting too hot or too cold. Seven "zones" in the foam are designed to accommodate common pressure points (think elbows and knees).
It's a queen-sized bed meant for a king (or queen). The tech is interesting because it really encourages trial and error. Sleep Number, as we all know from the commercials, lets you dial-in a firmness using the included remote control. After each night, you get a Sleep Number rating that's usually somewhere between 50 and 90. It's essentially a measure of how well you slept, how much you moved around, and how often you got out of bed.
If you dial in a Sleep Number setting of 50, for example, and then get a rating of 70 for the night, you can try a higher or lower setting to see if your score improves. Call it the gamification of sleep, but few people score higher than 90. The mattress uses two air chambers--on each side of the bed--to increase or reduce its firmness to accommodate you and your bedfellow's preferences. The company also provides printed materials, web info, and even tech-support folks who can explain how your diet, when you go to bed, how often you exercise, and other factors can affect your sleep patterns.
I started at setting that were too high--between 80 and 85--and for about a month, my nightly scores were between 70 and 75. An iPad app (there's a version for Android and a browser-based app, too) tracked my settings and reported the resulting scores for the day, week, and month. I liked the experimentation, especially when I started seeing results. I cranked down my number to 50 after hearing that most people use a setting of between 35 and 50, and I started sleeping better immediately. My week scores ranged up as high as 85 and even 90. I felt better, and so did my wife, who used a much firmer setting of about 75.