SimpliSafe Home Security review: This system lives up to its name
SimpliSafe promotes its home-security system as a less-expensive alternative to professionally installed systems you can buy from service providers such as ADT and Vivint.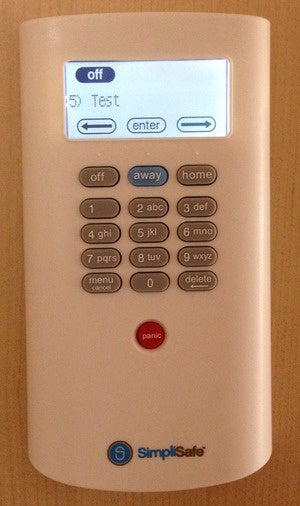 Mount this numeric keypad near a commonly used entry/exit door. You'll use it to arm and disarm the alarm. Credit: Jake Widman
Once the base station and the keypad are installed, you set about installing the various sensors. SimpliSafe offers open/close sensors for your doors and windows, motion sensors for rooms, water and freeze sensors, smoke and carbon-monoxide detectors—there's even a sound sensor that responds to the specific frequencies of breaking glass. (The setup guide warns against putting it in the kitchen.) One base unit can support up to 41 of these sensors. There's also a "panic button" to put on the wall next to your bed that you can press to activate the alarm.
A keychain remote, which also has a panic button, lets you arm and disarm the system if you're not within reach of the keypad. There's also a second siren that's much louder than the one in the base unit, and it's weatherized so that it can be installed outdoors, if you prefer, to notify your neighbors (presuming you're on good terms).
Each of the sensors, the keypad, and the siren comes with two-way mounting tape on the back, so you don't need to drill any holes in your walls or windows and door trim. (Note: The door/indoor sensors we've seen with some other systems can be mounted inside your door and door frame, which neatly hides them from view. The downside, of course, is that this installation method requires drilling holes and is permanent.)
The boxes SimpliSafe's sensors come in have "quick tips" printed on them, such as "a solid yellow light indicates that the smoke detector is not securely mounted on its bracket." These tips are a good example of how SimpliSafe holds your hand through the setup process. When you first plug in the base unit, a female voice (not a robot) welcomes you and tells you it's ready for you to start installing devices.
One of the keychain remotes in my kit was also a thumb drive with a setup animation stored on it. The animation didn't work on my Mac; but there's also an installation video on SimpliSafe's website that walks you through the basic process. This system definitely earns the "simple" in its name.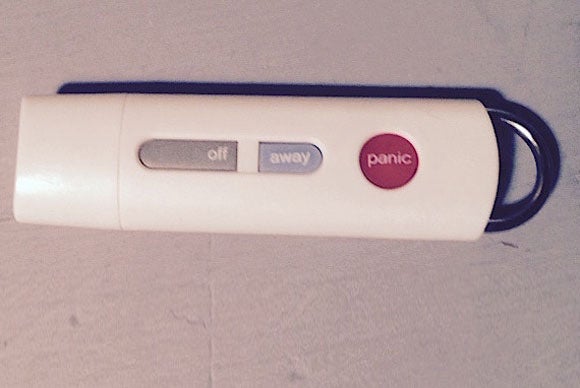 Keychain remotes like this one allow you to disarm the system before you enter the house, and arm it after you exit. The panic button will sound the alarm in an emergency. Credit: Jake Widman
Sounding the alarm
After getting the system set up, it was time to test it. I didn't bother to test the actual alarm sirens—the base unit's siren is 85 decibels, which according to various scales is about as loud as city traffic or trucks going by. The satellite siren is 105 decibels, or as loud as a jackhammer or power mower. Since I live in an apartment, I decided not to subject my neighbors to these noises and to assume that if the test mode worked, the alarms would, too.
Previous Page 1 2 3 4 Next Page