ServiceMaster goes digital to stave off Amazon.com
The home service giant has tapped digital dispatching to connect technicians with homeowners and has embraced agile as part of a broad digital transformation to deliver software faster.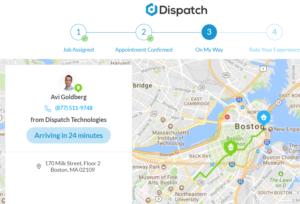 Credit: Dispatch. (Click for larger image).
The customer meanwhile can track the technician's route to his or her home, text the technician to provide a status update, pay and fill out a brief online survey once the task is completed to give ServiceMaster instant feedback about their satisfaction with the work. Such information enables ServiceMaster to quickly follow up with the technician is necessary. While the feedback is crucial, Smith says he fell in love with Dispatch's easy-to-use APIs as well as the company's willingness to work with him to perfect the user experience for both the technicians and homeowners; he likened it to the rapid service consumers are accustomed to receiving from Uber.
"Speed matters; the expectations of technology are shifting so fast that it's difficult for a company to keep up," Smith says. "We saw Dispatch was a way to accelerate our transformation or Uberification." In June, ServiceMaster co-led a $12 million Series A funding round in Dispatch with GrandBanks Capital.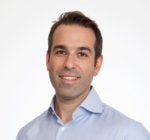 Avi Goldberg, CEO, Dispatch. Credit: Dispatch
Dispatch is just a slice of a broader digital transformation at ServiceMaster that started with Smith's boss, CEO Robert Gillette, more than two years ago. The company launched Ground Floor, a 20,000 square-foot innovation center in which it's working with entrepreneurs and accelerators to broaden and accelerate its impact in commercial services. The goal is to allow ServiceMaster and its partners to test potentially disruptive ideas without disturbing corporate business processes.
Agile, the new IT operating model
ServiceMaster also required changes to its IT operating model. Like many traditional enterprises, the company had been hamstrung by decades of Big Bang implementations, including two-year ERP and other IT projects that never worked out. "We knew we had to change and do things quickly and incrementally," Smith says.
The new way: application delivery predicated on software development conducted in agile and devops. ServiceMaster employs "scaled agile," running roughly 10 software deploys a day, executed by roughly 30 self-organizing agile or kanban teams composed of IT, marketing and business line managers. In scaled agile, the approach is Weighted Shortest Job First (WSJF), a prioritization model used to sequence jobs. A push toward devops is underway.
"That is the way work gets done; there is no more IT-business customer relationship," Smith says. "We've blurred that line and created a feature factory that churns out an amazing amounts of work."
But the boost to his department's code pipeline is creating another challenge. How can he ensure that the "widgets we spit out are the best, most important things that we're working on" and inject them into ServiceMaster's business planning and strategy to propel the company to the next level? It's a question with which Smith is constantly wrestling.