Sennheiser MM 450-X headphones combine noise cancelation and Bluetooth
Sennheiser's MM 450-X combines noise-canceling and Bluetooth technology in a lightweight travel headphone. Does Sennheiser's audio expertise make for a high-end travel headphone worth having?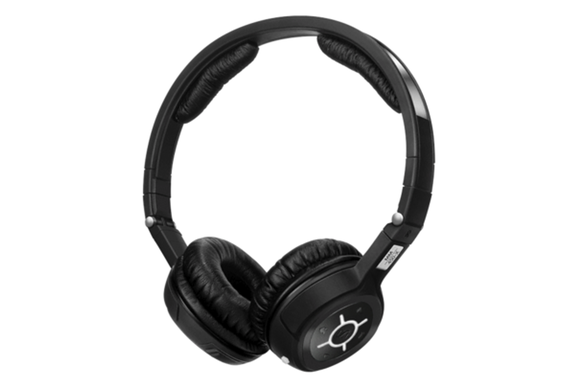 When I was growing up, Sennheiser was the Ferrari of headphones--a company with a reputation for producing the best product, without compromises. Given this context, the $450 MM 450-X Travel Bluetooth Headphones seems like a bit of an odd product: Instead of a purist's headphone, the MM 450-X offers a slew of features audiophiles normally abhor, including Bluetooth connectivity, noise-canceling circuitry, and microphones--features that usually adversely affect sound quality, but that also dramatically increase the convenience and utility of headphones.
To audio geeks, these features may be akin to adding traction control and a navigation system to a Ferrari, but, well, even that's happening these days. The question is, does Sennheiser's audio expertise make for a high-end travel headphone worth having?
Solid and full-featured
My first impression on handling the MM 450-X was how thin--almost spindly--it seems, belying the quality of materials and construction. The headphones are actually quite sturdy, but the two headband pads look as though they would tear off at the first hint of abuse. The headband is also curved tightly enough to form a closed loop when the headphones aren't on your head, but I never experienced any head-vise discomfort during multi-hour listening sessions.
The MM 450-X features controls on the right earpiece that are laid out in a common four-way configuration, with volume up and down buttons at the top and bottom, respectively; previous- and next-track buttons toward the rear and front, respectively, and a play/pause/power button in the middle.
Two additional buttons located along the bottom edge of the right earpiece control Bluetooth connectivity and NoiseGard, Sennheiser's name for the company's noise-cancelation circuitry. The depth of Bluetooth implementation is among the deepest I've experienced, with a long list of control commands. Some of the less common options include redial, mute, and track scanning, along with the capability to transfer a call back to the phone.
This versatility doesn't come at the expense of being able to use the most common commands easily and simply. For example, when used with an iPhone or iPad, I found the MM 450-X's use of the Bluetooth button to activate Siri much more convenient than the "press-and-hold a multi-function button" approach of most Bluetooth headphones. The NoiseGard button also activates a unique TalkThrough feature, common in aviation headsets, that pauses audio playback and lets you hear the audio from the MM 450-X's external microphones--in other words, you can carry on a conversation, or take an audio measure of your surroundings, without having to remove the headphones.
The MM 450-X uses a CSR Bluetooth chipset, found in many higher-end Bluetooth headsets, and offers battery life comparable to those similar products: Sennheiser claims battery life of 8, 10, or 20 hours for wireless noise-canceling, wireless, and wired noise-canceling listening, respectively. These wireless-use claims were in line with what I found during use, though I didn't test battery life for wired noise-canceling listening.