Sennheiser launches new flagship headphones, the HD 800 S, and moves into the 3D-audio space with Ambeo
The new cans are all about refinements, while the new focus on immersive audio signals a strategic shift for the company.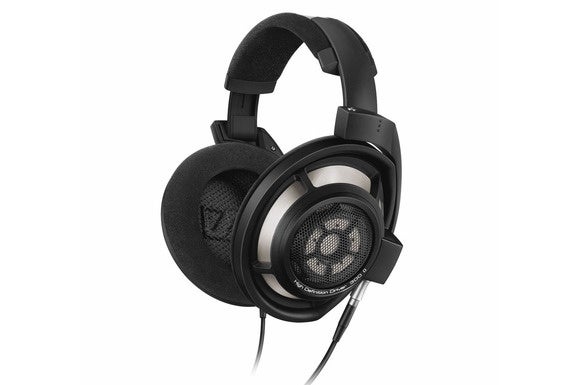 Sennheiser's HD 800 S feature very large 56mm transducers. Credit: Sennheiser
Ambeo: Do we really need another 3D-audio format?
While Sennheiser is arguably best known for their headphones, the company made a significant announcement yesterday about its technology future. The company said that it will be undertaking a new strategic focus on 3D immersive audio. The new technology, dubbed Ambeo 3D, is an end-to-end solution from audio capture to reproduction. Sennheiser's co-CEOs, Daniel Sennheiser and Dr. Andreas Sennheiser made the announcement.
"3D audio is the new frontier of excellence, set to transform the listening experience for users across a broad range of applications, from virtual reality gaming to audio recording and broadcasting," the co-CEOs said. "We have been active in this area for some time with 9.1 mixing and recording and the audio design for high-profile exhibitions. We are now increasing our efforts considerably to introduce this amazing sound quality into new products and applications, enabling users to experience and shape the future of audio."
Like previously announced immersive audio formats, such as Dolby Atmos and DTS:X, Ambeo 3D will feature an upmixer that will take native two-channel content and upmix it to an immersive presentation. While those other 3D audio formats are focused on home theater, it appears as though Sennheiser's 3D audio format will be targeting music, gaming, and augmented reality simulations. The exact speaker layout supported by Ambeo 3D remains to be seen. However, we do know that Ambeo 3D will be built around 9.1-channel setups.
Easy 3D Recording and Modeling
Sennheiser realizes that content is king and that for any new technology to gain traction, it must be easy to develop in. Sennheiser is therefore looking to help content creators take advantage of their 3D audio platform with easy-to-use recording and modeling tools.
On the capture front, Sennheiser will feature a virtual-reality microphone. Unlike traditional microphone designs, the new mic will capture high-quality audio in four quadrants. Sennheiser says the mic was designed in coordination with VR content producers. The VR mic is scheduled to launch in the third quarter of 2016. In 2017, Sennheiser will ship a software plug-in that will be bundled with the same mic for VR content post-production.
A potentially unique aspect of Ambeo 3D is its ability to do venue modeling. Sennheiser thinks that their venue-modeling technology will become the new way to do virtual room acoustic replication. At CES, Sennheiser will be demonstrating its Venue Modeling software, which can supposedly take the room characteristics of several clubs, such as Mighty in San Francisco, and the Rex Club in Paris, and recreate it so that DJs, PA artists, and EM producers can experience their sets as though they were in the middle of their audience.