Sears doubles down on the smart home with new Kenmore, Craftsman, and DieHard products
The retailer rolled out everything from sensor-laden appliances to tool chests with Bluetooth smart locks at an event in New York.
Kenmore Elite Smart Refrigerator Sensors monitor and report how many times this French-door refrigerator's doors are opened and send an alert to a smartphone app if either of the doors are left open. You'll also get alerts in the event of a power outage—so you can take action to prevent food from spoiling—and for maintenance needs, such as replacing the water filter. The refrigerator is due to be in stores in the fourth quarter of 2016.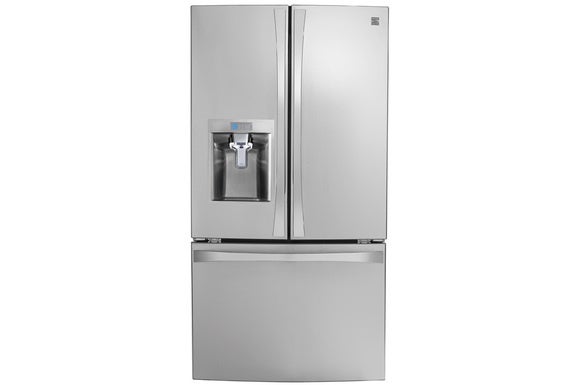 Sears' Kenmore Elite connected refrigerator won't have all the bells and whistles of something like Samsung's Family Hub, but it probably won't cost $5,000 either. Credit: Sears
Kenmore Elite Smart Washer and Dryer In addition to receiving maintenance alerts via Sears' Kenmore Smart app, you'll be able to remote-start the washer from anywhere you have internet access. Why would such a feature be valuable? You could load dirty clothes into the washer in the morning before you leave for work, and start the wash cycle before you leave for home. The clothes will be ready for the dryer when you arrive, without sitting damp in the washer all day long. You'll also be able to download new wash and dry cycles for specialty fabrics and specific stains. The washer and dryer will be available in the first quarter of 2017.
Craftsman Wi-Fi Smart Control Garage Door Opener You don't need to buy a whole new garage-door opener to get connectivity features, as there are a number of products that you can add to existing openers. But this new model from Sears promises to deliver some great features when it becomes available in October. It can connect directly to your Wi-Fi router, so you don't need a gateway as with earlier smart Craftsman models, and the app can manage up to three openers even if they're at different locations (your home, a vacation home, and grandma's place, for instance). You can see with a glance at the app if the door is opened or closed, and you can open or close it from anywhere you have internet access.
The door can also be programmed to automatically close after opening (after one, five, or 10 minutes or a custom time up to 90 minutes). An integrated motion sensor will automatically turn on the built-in lighting, and a there's battery backup that can operate the opener in the event of a power failure. A wireless remote keypad is also included (in my personal experience, these are super handy when you're not in your car but need to get into the garage). The opener will be available October 2016.