Samsung's smartphone share hit by Note7 debacle, stiff competition
The smartphone market grew by 6 percent in the third quarter, said Strategy Analytics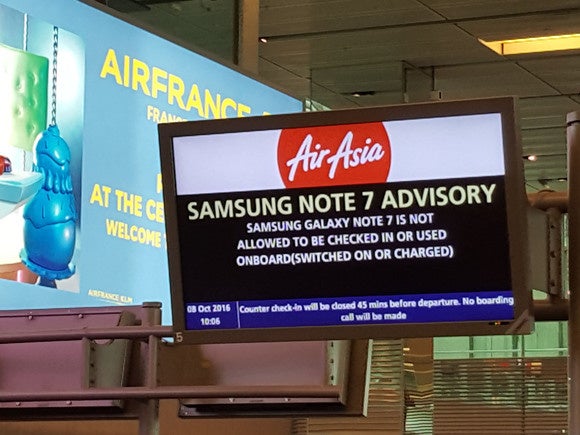 Samsung Electronics continued on top of the smartphone market in the third quarter but was battered by the impact of the Galaxy Note7 recall and increased competition in India, China and the U.S., according to Strategy Analytics.
Overall the market grew by 6 percent annually to reach over 375 million units in the quarter, which was the smartphone industry's fastest growth rate for a year, according to the research firm. Chinese brands Huawei, Oppo and Vivo posted strong growth rates in shipments even as Samsung and Apple saw volumes drop.
"Samsung's worldwide slowdown is due to the sizeable loss of several million Note 7 shipments, combined with fierce competition from Chinese brands like OPPO in the huge China and India markets," wrote Neil Mawston, executive director at Strategy Analytics in an email. "Samsung is filling some, but not all, of the Note 7 gap with increased S7 and S7 edge promotions."
Samsung recalled the Note7 smartphone in September after reports of overheating lithium-ion batteries. Replacement Note7 phones also ran into similar problems leading the company to discontinue production of the smartphone in October.
The company said Thursday that the third quarter revenue of its IT and Mobile Communications division was down 15 percent from the same period last year to 22.5 trillion Korean won (US$19.8 billion) while operating profit fell 95 percent to 100 billion won, as a result of the discontinuation of the Galaxy Note7.
In the third quarter, Samsung shipped 75.3 million smartphones, down by 10 percent year-on-year from 83.8 million phones moved in the same quarter of last year. This was Samsung's slowest growth rate in almost two years, according to Strategy Analytics, which estimated that the company's market share in smartphones dropped to 20 percent in the quarter from 23.7 percent in the same quarter in the previous year.
The figures for Samsung shipments in the third quarter do not include Note7 volumes, said Linda Sui, director at Strategy Analytics. If the Note7 is added back, the total volume would be around 79 million units or so, which would still result in a year-on-year decline, she added.
Samsung is losing ground in the top three countries worldwide. In India, it is still number one, but it has lost ground to rising Chinese players, while in China, it has been pushed out of the top 5 list for four quarters in a row, Sui said.
In the U.S too, Samsung faces intensified competition from Apple, which benefited from solid promotions from top tier carriers for iPhone 7 models in September, she added.
Samsung's declining shipments can be attributed in part to its move out of the "ultra low-end segment," consisting of phones priced under $200, which in 2015 was a big driver of its particularly high third-quarter volumes, Melissa Chau, IDC's associate research director said.