Samsung's Galaxy Note7 from hell
The problem (probably) isn't just the batteries, but it would help if Samsung talked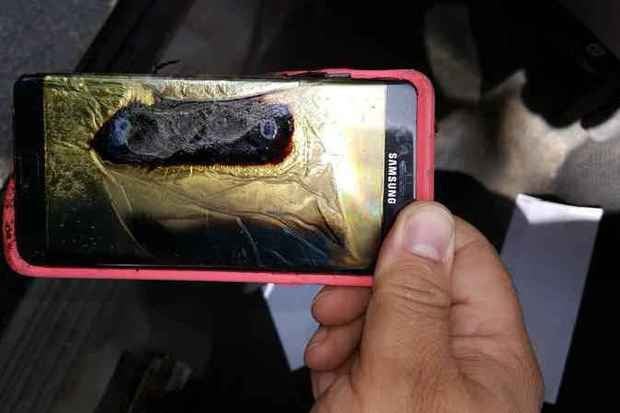 There's a lot of clap-trap going around about what could be wrong with the lithium-ion batteries in the dozens of Note7s that overheated, smoked, and even caught fire in original and replacement units.
The truth is that the public doesn't know -- yet. Many analysts are questioning whether Samsung knows and just hasn't said.
Samsung killed production of the Note7 and stopped sales and exchanges yesterday, less than two months after the South Korean giant started shipping the original device in the U.S. on Aug. 19. It's not clear what the company plans to do next to recover.
Samsung is still investigating the cause or causes of the fires and likely has a lot of theories. While production is indeed stopped, which is a good move, it's still vital to the entire smartphone industry and the buying public to know precisely what went wrong.
If the experts at Samsung are smart, they will reach a conclusion quickly and the company will share it publicly. To date, the public doesn't have any results from the U.S. Consumer Product Safety Commission (CPSC) or Samsung or any other reputable investigator.
One analyst, Patrick Moorhead of Moor Insights & Strategy, posited that the overheating is likely due to a problem in the charging characteristics of the phones -- not the actual batteries themselves, affecting the chemistry inside the batteries. That might be the result of how an algorithm was used to guide -- or in these cases, misguide -- the charging process.
Moorhead, a former technology product manager with 26 years in the business, noted that two different brands of batteries were inside phones that overheated, further raising doubts that the batteries are to blame. In the original Note7, the batteries were from a Samsung subsidiary, Samsung SDI. The batteries inside replacement Note7s were made by Amperex Technology of China. After the CPSC recalled 1 million Note7s in the U.S. on Sept. 15, Samsung decided to use Amperex batteries in the replacement models sent to customers.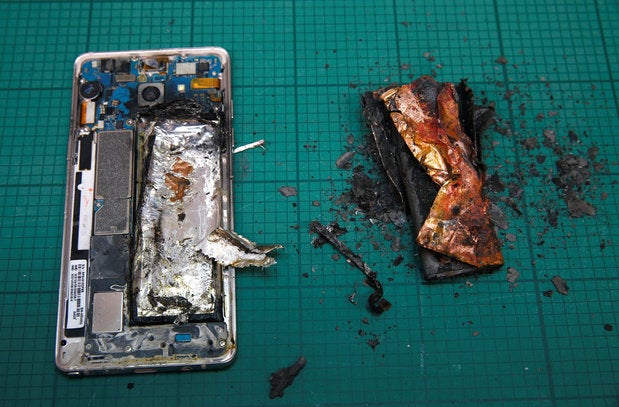 A Samsung Note7 is pictured next to its charred battery after catching fire during a test.
Then, some Note7s that were apparently replacement models caught fire. In the earliest example, smoke started billowing from a Note7 aboard a parked Southwest Airlines jet on Oct. 5. Samsung said it wanted to examine that replacement phone.
Details about the batteries reportedly connected to fires are corroborated by other reporting, including by The New York Times.
The Times quoted Park Chul-wan, former director of the Center for Advanced Batteries at the Korea Electronics Technology Institute, as saying Samsung was "too quick to blame the batteries." At the very least, the batteries were not the main problem, he said.